Learn the
why

behind the headlines.

Subscribe to the Real Truth for FREE news and analysis.

Subscribe Now
As a Barbudan woman surveyed the desolate wasteland that had once been her home, she sighed heavily.
"Where to begin? Where to start?" she told local media outlet ABS Television/Radio after Hurricane Irma swept through the Caribbean nation of Barbuda. "This is just one word: epic. What we experienced is like something you see in a horror movie. It's something that you watch on TV, but not something you expect to actually happen in reality.
"I mean, persons were literally running from house to house. And we had cars flying over our heads. We had containers, 40-foot containers flying left and right and the stories that you are getting from most of the residents here is that the eye of the storm came just in time. Persons were literally tying themselves to their roofs with ropes to keep them down, holding on…"
Barbuda was the first Caribbean island hit by Irma as it churned through the Atlantic Ocean and made landfall. Its 185 mph winds left over 60 percent of the population homeless and downed 95 percent of the island's buildings.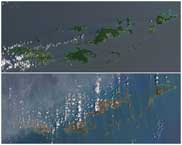 Joshua Stevens/NASA Earth Observatory via AP
Once known for pink sandy beaches that attracted celebrities and royalty, virtually all of the nation's 1,500 residents left for the sister island of Antigua, a 1.5-hour boat ride away. Many fled with nothing but the clothes on their backs—just before the more than 370-mile-wide hurricane hit the tiny 62-square-mile island.
"The damage is complete," Ambassador Ronald Sanders, who has served as Antigua and Barbuda's ambassador to the United States since 2015, told USA Today. "For the first time in 300 years, there's not a single living person on the island of Barbuda..."
The two islands, which are a sovereign nation, will need an estimated $200 million to rebuild.
"The biggest problem in Barbuda now is the fact that you have so many dead animals in the water and so on, that there is a threat of disease. You could put all the people back in Barbuda today…but then you'll have a medical crisis on your hand," Foreign Affairs Minister Charles Fernandez said.
Picking Up the Pieces
Barbuda is not alone. Many other islands suffered at the hands of Irma. The wild isolation that made St. Barts, St. Martin, Anguilla and the Virgin Islands vacation paradises turned them into cutoff, chaotic nightmares in the wake the hurricane, which left 37 people dead, mostly in the Leeward Islands, the string of islands that make up the area.
Looting and lawlessness were reported by both French and Dutch authorities, who sent in extra troops to restore order.
The hurricane lashed U.S. Virgin Islands of St. Thomas and St. John with winds of 150 mph for more than four hours when the storm hit September 6. A complete damage assessment has yet to be done but many homes were left in ruins, as were police and fire stations and the main hospital. There were four deaths from the storm, as well as a power line worker killed while trying to do repairs.
After the storm, survivors on St. Thomas and St. John subsisted on whatever they could find as they tried to repair or secure their houses with whatever materials available. They had to dodge downed power lines snaking through the hills that were a deep green before the storm but now so stripped of plants and trees that they are brown and desolate.
"Of the three main U.S. Virgin Islands, St. John was hit hardest," NBC News reported. "Kelly Quinn, a boat captain who lived on Great Cruz Bay in St. John, said she and her husband braved 15-foot waves from the storm 160 miles out at sea, away from Irma's path, rather than risk a direct hit on their vessel.
"When they returned, they found St. John in an 'apocalyptic state," Ms. Quinn told the news outlet.
"It was such a macabre scene pulling in there and seeing people with their heads in their hands having lost everything," she explained.
"I would say three out of every five buildings has its roof ripped off. There are no wooden houses standing anymore," she said. "Only the concrete ones survived, and [on] concrete ones with wooden roofs, the roofs are gone."
"The village where I live is devastated," said Dominique Olive from French Town on St. Thomas' southern coast. "There are people I've known for many, many years. Everything they have is gone."
Mr. Olive said there has been some "disgusting" looting and desperation but also hopeful signs. "We are helping each other. It doesn't matter which color you are, we are all helping each other," he said as he walked through St. Thomas' largest city, Charlotte Amalie.
After the storm, the U.S. territory of Puerto Rico was left with half of its 3.4 million residents without power and nearly 50,000 without water, the area's emergency management agency said. Fourteen hospitals were using generators after losing power, and trees and light poles were strewn across roads.
The U.S. National Weather Service said Puerto Rico had not seen a hurricane of Irma's magnitude since Hurricane San Felipe in 1928, which killed a total of 2,748 people in Guadeloupe, Puerto Rico, and Florida.
Puerto Rico's public power company has cut back on staff and maintenance amid a decade-long economic crisis and the agency's director warned that some areas could be without power for four to six months because the infrastructure has already deteriorated so badly.
Haiti also found itself in Irma's path.
"'This storm didn't even leave one tree with food on it for us to eat,' said an exasperated [farmer Artis] Esperance, 41, holding a rusty machete in one hand and an overripe breadfruit in the other, not far from one of his farms. 'This has taken food out of the mouths of my children.'
"Though Haiti was spared a direct hit from Irma and the fallout is nowhere near the magnitude of Matthew's 546 dead and $2.8 billion in washed-out roads, collapsed bridges and destroyed crops, the frustration and fears for some in its path are no less," the Miami Herald reported.
"We didn't have people who died, but homes and farms were destroyed," Mr. Esperance told the news outlet. "Just because you don't see a lot of damages, it doesn't mean that we haven't been left deeper in misery."
The British Virgin Islands of Anguilla and the Turks and Caicos islands were also all pummeled by Irma, leaving thousands without electricity or water and reducing homes to splinters. At least five people died in the British territories.
On the island shared by French St. Martin and Dutch St. Maarten, 15 were killed. The Dutch Red Cross said 90 percent of buildings on St. Maarten were damaged and a third were destroyed by the hurricane's fierce winds and powerful storm surge.
In addition to the tiny islands, the historic but often decrepit buildings of Havana and other colonial Cuban cities could not stand up to the storm's winds and rainfall, collapsing and killing seven people in one of the highest death tolls from the storm's passage through the Caribbean.
It was Cuba's worst hurricane death toll since 16 died in Hurricane Dennis in 2005.
On Galeano Street in Central Havana, a fourth-floor balcony dropped onto a bus carrying two 27-year-olds, killing both. In the cities of Matanzas, Ciego de Avila and Camaguey, three men in their 50s and 60s died in building collapses.
On Animas Street in Central Havana, a 51-year-old was caring for his chronically ill older brother. They lived on the second floor of building divided into 11 apartments, many of them divided by crude intermediate floors known as "barbeques."
After midnight, as wind whipped the neighborhood, a wall collapsed onto the roof of their building, crushing the two brothers to death.
No one noticed until the next morning, when neighbors saw a foot sticking out of the rubble.
"We felt something, but no one imagined the roof and barbeque had collapsed," said one resident. "These buildings are in really bad shape. Their room was the best one."
Long Road Back
While Hurricane Irma's 185 mph winds and fierce rain came and went, the larger story lies among the smashed pieces of the brightly colored villas strewn across the once-lively tiny Caribbean islands. These structures—which attracted throngs of tourists—were the area's lifeblood.
The Caribbean has approximately 25 million visitors a year who bring in more than $49 billion—15 percent of the area's GDP. Without that money flowing in, many people will be unemployed or may be forced to move elsewhere.
Roads and airports will need to be repaired or even rebuilt, and it is uncertain whether that can be done in time for the winter high season. Wealthier islands with more private insurance will fare better, Gabriel Torres, an analyst for Moody's Investors Service who has studied the effect of storms in the Caribbean, said.
"It has an impact on tourism because some hotels will decide not to rebuild or take a long time to rebuild, and that's lost revenue," Mr. Torres said. "That can take years to recover."
Mr. Torres said the entire island of St. Martin will benefit as their European patrons provide aid for rebuilding.
If there is any consolation, it may be that "the damage to tourism is going to be less than feared because a great many popular islands have been spared," including Aruba, Bonaire and Curacao, said Arthur Frommer, the founder of Frommer's travel guides.
"Raw sewage, rubbish and rotting food"
One of the most serious problems each of the storm-hit areas are now facing is the potential for deadly disease outbreaks.
The Guardian reported that the British Virgin Islands, where five people died, are still struggling to cope.
"Wide areas of the British Virgin Islands have been reduced to rubble, with rats swarming through damaged houses and raw sewage creating a health hazard, as many await evacuation to the larger island of Puerto Rico, to the west, which was less badly hit.
"Thousands of islanders are sharing sparse resources and trying to help stranded neighbors, but there have also been reports of looting and armed holdups amid the destruction.
"'It's absolutely horrific,' said Sarah Thompson, a 38-year-old lawyer and resident of Tortola, the largest of the British Virgin Islands. 'The island is not fit to live on. Planes and boats are needed to get people off. There was some limited evacuation yesterday, prioritizing those who are injured and most vulnerable, but many are still trying to find a way off the island.'"
According to the newspaper, Ms. Thompson later said, "People are talking about supplies going in, but there is a need to get stuff out. It's well over 30C and it's humid and dirty. Houses are not secure and there is raw sewage, rubbish and rotting food and there are rats and birds going into the houses."
This article contains information from The Associated Press.