Europe's Muslim neighbor has sought closer ties with the Continent since the end of World War II. But fundamental differences stand in the way of full integration.
Learn the
why

behind the headlines.

Subscribe to the Real Truth for FREE news and analysis.

Subscribe Now
Towering over a formerly protected forest area on the outskirts of Ankara, Ak Saray (the White Palace) is the presidential complex commissioned by Turkey's President Recep Tayyip Erdogan. Completed in 2014, the residence's title is a play on America's White House—35 of which could fit into the palatial building.
One look reveals Ak Saray's opulence. It contains over 1,100 rooms, including guest rooms, offices, bathhouses, pools and saunas, as well as 63 elevators. Imported Italian marble covers floors and hallways. Diners enjoy gold-inlaid dishware and glassware. Bathrooms have silk wallpaper. Underneath is a four-story bunker capable of withstanding a nuclear attack.
The 3.2-million-square-foot edifice cost more than half a billion dollars.
Ak Saray's size and appearance alone stand in stark contrast to the official residences of heads of state throughout Europe. The Continent's largest functioning palace is the Royal Palace of Madrid at 1.4 million square feet—under one-third the size. London's 10 Downing Street, Britain's 300-year old home for the prime minister, has a brick facade that could be confused for an apartment building. While these structures certainly befit world leaders, the White Palace could house a sultan—though keep in mind it was built for a democratically elected president.
A closer look at Mr. Erdogan's home reveals a distinct theme. Ottoman- and Seljuk-era columns surround its main building. A 4,000-person-capacity mosque sits on the property. Islamic calligraphy lines the walls.
Undoubtedly, the building proudly showcases the nation's roots as the largest Islamic empire in history.
The emphasis on religion mixed with politics raises concern for Turks who view their president's actions as "gradually undoing the secular underpinnings of the modern Turkish republic," NPR reported.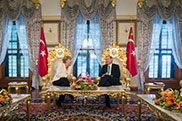 Guido Bergmann/Bundesregierung via Getty Images
For Europe, Turkey's burgeoning pride in its past is alarming. Though the nation has been working toward membership in the European Union since 2005, the Continent has struggled to see how it can integrate its Muslim-majority neighbor.
"To join, a would-be member must meet requirements in 35 areas, known as chapters," Time magazine stated. "A unanimous vote of every E.U. leader is needed to open a chapter, and another to close it. In almost 18 years of formal candidacy, Turkey and the E.U. have opened 14 chapters. Just one has been closed."
Europe's "test case of whether democracy can be reconciled with political Islam," as The Economist described it, seems a hopeless experiment.
Despite the slow and problematic trudge toward membership, President Erdogan has made clear his aim. In a statement marking Europe Day on May 9, he wrote, "Our country, which has historically, geographically and culturally been a part of Europe for centuries, has the will to continue its EU membership process, which it sees as a strategic target, based on mutual respect, quality and a win-win concept."
But the question remains: Can a 98-percent Muslim nation really be a member of the European Union?
Past and Present
Current tensions between Turkey and the EU are grounded in the fact that the two have been on opposing sides throughout history. The former Seljuk and Ottoman Empires, for instance, staged invasions into Christian Europe in the name of Islam.
Following the first world war, the Ottoman Empire's last sultan resigned, which led to the formation of a parliamentary system and began the secular democracy that continues today.
After Mr. Erdogan became prime minister in 2001, the nation experienced economic renewal, infrastructure development, and political change.
This has made Turks "increasingly hubristic," The New York Times reported. "Having seen their total G.D.P. more than double in the past decade, many Turks do not feel that they need the European Union anymore."
"Conversely, many Europeans are increasingly antagonistic toward Turkey's ongoing bid for European Union membership." Since an attempted military coup in July 2016, after which tens of thousands were incarcerated or fired from public positions due to suspected involvement, many argue that Turkey is not a democracy at all.
An April 16 Turkish referendum raised even more concerns. Slightly more than 51 percent of citizens voted "Yes" to significant changes in the nation's government structure. These included scrapping the role of prime minister, thus increasing the president's powers by making him head of state and head of the government's executive branch. It also gave him sole power to appoint ministers, enact laws by decree, and even dismiss parliament.
To the West and millions of those who voted "No," this meant President Erdogan had become "a 21st-century sultan minimally curbed by parliament" and put Turkey under an "elected dictatorship," according to The Economist.
Political opponents of President Erdogan "decry his slide to authoritarianism, presiding over the world's biggest jailer of journalists and a country where some 140,000 people have been arrested, dismissed or suspended since the failed coup last year," BBC reported.
"Granting him virtually unfettered powers, said the main opposition CHP [Republican People's Party], would 'entrench dictatorship.'"
The legitimacy of the vote's result has been contested. The Turkish state determined that any blank voting ballots would automatically be considered "Yes." Nearly two percent of votes came in blank—a figure that could have changed the result if they were not counted.
Meanwhile, Mr. Erdogan and the government reasoned that creating a more powerful presidency would bring an end to unstable coalition governments that have dominated Turkish politics since the 1960s.
"The current system, they say, is holding back Turkey's progress. They even argue that the change could somehow end the extremist attacks that have killed more than 500 people in the past 18 months" (ibid.).
Deeming the result a success, Mr. Erdogan also vowed to reinstate the death penalty through a future referendum. Eligible voters would include the approximately 1.7 million Turkish citizens living abroad in Germany.
Yet German politicians have resisted this proposal. Government spokesperson Steffen Seibert said in a news conference, "It is politically inconceivable that we would agree to such a vote in Germany on a measure that clearly contradicts our constitution and European values" (The Associated Press).
European leaders promised to utterly end considering Turkey for EU membership should capital punishment be reinstated.
In addition, the president accused all "No" voters of siding with the plotters of the failed military coup last year, during which a faction of the Turkish Armed Forces was halted after forces loyal to President Erdogan stopped them.
Between bitter rhetoric and opposing trends, the EU has strong reasons to ditch its "test case" of integrating an Islamic government into a democratic union.
Yet Europe has not let go of its neighbor's membership bid. To do so could alienate it and condemn it to fundamentalism. All hope of fixing Turkey's ailing democracy would be gone.
But there are additional reasons Brussels and Ankara must continue to get along.
Reasons to Integrate
Turkey has helped the EU handle its worst refugee crisis since World War II. British news magazine The Week reported that "a deal was agreed to allow one Syrian refugee from a Turkish camp to be admitted to Europe for each irregular migrant sent to Turkey from Greece.
"In return, the EU promised fresh discussions on Turkish membership and visa-free travel for Turks, as well as £2.3bn of refugee aid between now and 2018."
In helping broker this deal, President Erdogan said in a conference in Istanbul: "We have made clear time and time again that we take care of European values more than many EU countries…"
Adding the nation to the union would allow for even more centralized and coordinated control of the flow of migrants from the Middle East and northern Africa into Europe.
Beyond this issue, the EU sees potential in a partnership with Turkey. For one, the Eurasian nation would be a boon to European security. Turkey has the second largest army in NATO, and would be a powerful ally against Syria's Bashar Assad and the Islamic State in Iraq and Syria.
The nation could also serve as a cultural and diplomatic bridge between Europe and the Middle East. Turkey sits in a unique position, both politically and geographically. Istanbul (historically Constantinople, the capital of the Eastern Roman Empire) has been the crossroads of European, Middle Eastern, African, Russian and far-east Asian civilizations for thousands of years.
As such, "Many argue that Turkey is better equipped to mediate in the Middle East than European countries," The Week stated. "During the 2009 crisis in Gaza, its diplomats were able to talk directly to the Hamas leadership" when European envoys could not.
Though Turkey's human rights abuse allegations are one reason it may not belong in the bloc, some purport Europe could help improve the democracy of the nation if it were to come under EU law. It would also open up EU involvement in helping to solve ethnic tensions between Turks and Kurds, as well as Turkey's poor relations with Cyprus and Armenia.
In addition, the nation would add tens of millions of consumers to Europe's free trade market, and be a country through which oil and gas pipelines could deliver energy resources from Asia.
While some have pointed out that Turkey's economic growth has slowed and taxpayers in wealthier EU countries would have to subsidize it, it is in much better financial condition than its southern European neighbors Romania and Bulgaria.
On top of these reasons, Europe bringing a Muslim-led democracy into the fold would send a clear message that the EU is open to associating with Islam.
Fundamental Differences
The cost of reaping these benefits, however, is too much for many European leaders.
Today, 97 percent of Turkey's territory lies in Asia, with a tiny sliver to the west of the Bosporus in Europe. Historically, it has generally been viewed by Europe as an outside invader.
Should Turkey become part of the bloc, Europe's new neighbors would be Iraq, Iran and Syria, with which it is fundamentally at odds.
Turkey's cultural roots lay more in Central Asia and the Middle East, and the nation was not heavily involved in events that shaped Europe such as the Renaissance and World War II.
There are also concerns that Turkey, with a population of 80 million, would become the largest and most dominant member of the EU behind Germany.
In addition, the country remains economically underdeveloped, suffering from high unemployment, sluggish growth, poor savings rates, and "the drying up of foreign direct investment from EU countries," EUobserver noted. It would put a major strain on the union's economy, which is already under stress due to Greece's bailout and possible fallout from losing its second-wealthiest member, the United Kingdom.
What the EU fears the most, however, are the realities that come with accepting an Islamic nation. It would have to contend with the fact that it is not a Westernized democracy. Human rights advocates already have a difficult time overlooking accounts of torture, free speech violations, and the denial of minority rights.
For many member nations, this factor alone is too much to bear. Since Mr. Erdogan's crackdown on political opposition and journalists after the coup, 479 out of 623 members of European Parliament voted to freeze Turkey's long-term plans for joining the EU.
Since 2005, Cyprus and France, both EU member states, have staunchly opposed Turkey's accession by repeatedly vetoing chapters at will.
Other leaders voiced their concerns over the constitutional referendum that took place in April. European Parliament member Jeppe Kofod labeled it a "scandal," and considered it an irony "when journalists are imprisoned and democracy is abolished by voting yes."
Denmark's Prime Minister Lars Lokke Rasmussen commented via Twitter that it is "strange that democracy is being used to restrict democracy."
Countering these claims, President Erdogan blamed European bias for Turkey's repeated failures. In his May 9 Europe Day letter, he said that the "biggest threat to the future of the union" is "exclusionary discourse" in the form of "discrimination, cultural racism, xenophobia and Islamophobia," which have been "spreading around the continent." He added that increasing votes for far-right parties "have taken Europe's socio-political life prisoner."
Mr. Erdogan also said a Brussels-Ankara alliance would benefit the union. According to Newsweek, he stated, "You need a country like Turkey, a different country symbolizing a different faith, this would make them very strong."
Turkey's government has made clear it will continue to pursue membership. Chief Negotiator for Turkish Accession to the European Union Omer Celik insisted that "none of this should be allowed to stand in the way of improved relations and ultimate membership of the bloc."
Turkey's Place
What does Mr. Erdogan see in Europe that motivates him to pursue a deeper relationship? To understand why an Islamic nation would be interested in closer ties with the West, which has roots in Christendom, one must look at history for important clues.
In The Real Truth article series "Bridging the Turkey-EU Divide," we discussed the two powers' common interests.
"In addition to strategic interests, there are other shared traits between Europe and Turkey. Both were longtime centers of architecture, culture, intellectual pursuits, governmental systems, and military ingenuity.
"The PBS documentary 'Islam: an Empire of Faith' stated, 'Islamic and Western civilization have the same roots: their dawning in the Fertile Crescent; the monotheism of the Jews and Christians; the classical, intellectual culture of the ancient Greeks. The two traditions are kindred spirits, alike yet very different. Islam's legacy is intertwined with the West.'
"Yet one major shared trait has been the main cause of friction between Islamic Turkey and Christendom Europe: both empires have deep religious roots.
"Both Islam and Christianity have a 'divinely ordained' mission to spread their beliefs."
"But how does this apply to today—a time in which many people call Europe a 'post-Christian' continent? Even though Europe is not dominated by religion as it once was, centuries of traditional Christianity's footprints are still found across EU member-states.
"Modern societies like to think that past events have little effect on the present. But it is futile to attempt to change deeply embedded national characteristics.
"French Historian Francois Guizot famously remarked in his Essais sur l'histoire de France, 'When nations have existed for a long and glorious time, they cannot break with their past, whatever they do…they remain fundamentally in character and destiny such as their history has formed them. Even powerful revolutions cannot abolish national traditions…therefore it is most important, not only for the sake of intellectual curiosity, but also for the good management of international relations, to know and understand these traditions.'
"With this in mind, the Turkey-Europe bond becomes even stranger. Why are these two world powers bucking a previous trend of animosity and war solidified over hundreds of years?"
"Despite the towering obstacles of history, religion and politics…one driving factor will soon push the two powers toward an increasingly close—and iron-clad—relationship."
Continue reading the two-part article series at rcg.org/realtruth. Historical evidence and little-understood Bible prophecies reveal Turkey's and Europe's important, future role in global events. Beyond simple details, what is coming will change the course of history.