After a year of bad news, how can the world realize the peace and prosperity it so desperately desires?
Learn the
why

behind the headlines.

Subscribe to the Real Truth for FREE news and analysis.

Subscribe Now
Jesus Christ told His followers to pray, "Thy kingdom come" (Matt. 6:10). With 2016 now behind us, the Kingdom Christ referred to could not be more needed.
Today, half of the Earth's 7.4 billion people live in abject poverty—on less than $2.50 per day. They desperately need a world in which "they shall sit every man under his vine and under his fig tree; and none shall make them afraid" (Mic. 4:4).
Millions are trapped in one of the many dozens of spiraling conflicts occurring, including drug wars in Central America, ongoing civil wars in the Middle East, and continued genocide in the Darfur region of Sudan. Also, the threat of terror looms large for those who experienced or witnessed the spate of attacks on college campuses, transportation systems, and streets of the United States, Belgium and France.
For them, a time when Christ will "judge among the nations…and they shall beat their swords into plowshares, and their spears into pruninghooks: nation shall not lift up sword against nation, neither shall they learn war any more" (Isa. 2:4) seems but a pipe dream.
And for those in the South American nations of Brazil, Bolivia and Venezuela, as well as African nations grappling with their worst droughts in decades, a world in which "the desert shall…blossom as the rose" (35:1) would be welcomed with open arms.
The list of horrific events from this year could go on. At times, it seemed easier to turn a blind eye to the grim reality of what was occurring than to face the news media's blaring sirens of each day's "crisis of the century."
Photos from the events of 2016 provide a deeper look at the problems mankind faces. It reveals why the Kingdom Christ proclaimed during His ministry on Earth must come—and soon.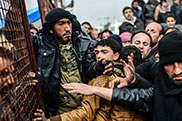 Bulent Kilic/AFP/Getty Images
Trapped in the Crossfire
Five years of vicious gun battles, airstrikes and use of chemical weapons between forces loyal to Syrian President Bashar al-Assad and anti-government protesters have left the nation in shambles. Since the civil war began in 2011, over 400,000 have lost their lives and more than 11 million have fled their homes to escape the carnage and food shortages. Over the months, there has also been increased involvement from the Islamic State terror group. Those who choose to remain in the country face lives of constant fear among the rubble of ruined cities.
Though government forces closed in on insurgents in the capital city of Aleppo, the war is expected to drag on. Reuters stated that "even if government forces take Aleppo, they will still not be able to end the conflict, as long as millions of Syrians see the government as a brutal enemy."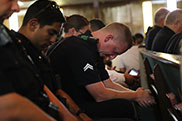 Spencer Platt/Getty Images
Resurfacing Tension
Progress in race relations made over the last 50 years seemed to all but evaporate during a year filled with racially charged altercations. According to a Pew Research study released in June, 45 percent of whites, 61 percent of blacks, and 58 percent of Hispanics believe "race relations in America are generally bad." The same study revealed that 41 percent of whites, 22 percent of blacks, and 25 percent of Hispanics think "too much attention [is] paid to racial issues."
Flight to Freedom
Migrant fatalities in 2016 more than doubled compared to last year. Out of the six million who fled worsening conflicts in the Middle East and northern Africa, over 10,000 lost their lives.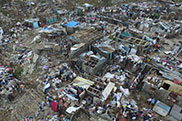 Nicolas Garcia/AFP/Getty Images
Devastating Weather
The Atlantic experienced its deadliest hurricane season in 10 years. Most notably, Hurricane Matthew carved a destructive path through the Caribbean in late September. It became a Category 5 storm with 160 mile-per-hour winds before plowing through Haiti, Cuba, the Bahamas, and finally dumping record amounts of rain and record-high storm surges on the United States coast from Georgia to South Carolina. In Haiti, where a Category 4 storm had not hit since 1964, at least 1,000 were killed. The United States lost 46 people.
Several other deadly natural events occurred worldwide, including an August earthquake in central Italy—which killed over 300 and leveled entire towns—wildfires in the southeastern U.S., and intense droughts in Brazil, Venezuela, Bolivia and Zimbabwe.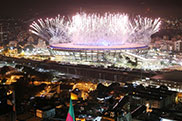 Mario Tama/AFP/Getty Images
Spectacle and Squalor
Wearied by the burden of constant bad news, the world yearned for a reprieve. It found it in the Olympic Summer Games in Rio de Janeiro, Brazil. Fans reveled in Jamaican sprinter Usain Bolt's third gold medal victory in the 100-meter dash, becoming the first man in history to do so.
Yet the Games in Brazil revealed the paradox of man's incredible achievements paired with his appalling troubles. The global population paid little attention to the fact that 1.4 million residents of Rio—over one-fifth of the city's population—continued to live in impoverished slum areas known as favelas. From January to October, city murders increased 18 percent over the previous year.
Though the Games were intended to jumpstart Brazil's ailing economy, the nation continued to wallow in its worst recession in more than 100 years.
Living with Terror
A number of high-profile attacks occurred in Europe such as the Brussels airport bombing that left 32 dead and over 300 injured and the Bastille Day truck attack in Nice, France, that killed 86 and injured 434. America experienced its deadliest mass shooting at a club in Orlando, Florida.
Yet these prominent events may have caused the world to forget equally disastrous attacks earlier in the year. On the first day of 2016, over 300 migrants were rounded up by the Islamic State terror group and executed in Tripoli, Libya. It would be the first of 15 mass killings—an incident in which at least 20 were killed—in January alone.
Throughout the rest of the year, terror groups continued to use more brutal methods of inciting fear, most notably by taking thousands of young prisoners for sexual exploitation.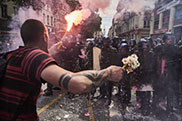 Jean-Philippe Ksiazek/AFP/Getty Images
The People Speak
Donald Trump's unexpected victory in the race to the U.S. presidency ended a year that saw a larger international move toward populism. In the narrow outcome of the Brexit vote, the United Kingdom began the process of severing its 44-year membership with the European Union. Contenders from populist parties in European countries Italy, Austria, France and Germany gained influence as citizens faced greater unemployment, threats of terror attacks, and immigration problems. Late in the year, after weeks of protests, South Korea impeached its president due to corruption charges.
Beyond 2016
The frenzied pace of disheartening news from around the world—updated death toll figures from natural disasters, feature stories recounting gruesome details in war-torn cities, red-alert developments of crises escalating out of control—can make just about anyone feel helpless.
The wearied watcher of events usually settles on what seems his only option: tune out. Yet turning a blind eye means a news reader will miss the big picture.
Recall Jesus' instruction to pray, "Thy kingdom come." It begs the question: Why is Christ not bringing it now when we need it most?
The big picture involves a Master Plan that God is working out. He has a very important reason for the events and trends occurring today. Understanding this will help you maintain proper perspective as news stories continue to transpire.
Keeping in mind the big picture will also help you see the end goal. Ultimately, God's Plan involves the best news for a weary world.
In the little-read prophetic book of Haggai, it states that "the desire of all nations shall come" (2:7). The word "desire," translated from the original Hebrew language, means "delight," according to Strong's Exhaustive Concordance of the Bible. The same Hebrew word is also translated "goodly," "pleasant" and "precious" throughout the Bible. Other verses prove that this "desire" is Jesus Christ Himself.
Realize that two things are being said here: (1) The entire world will desire Jesus Christ, and (2) Christ will bring delight to all nations!
Notice this summary statement of what Christ will do when He brings His Kingdom to the Earth: "Of the increase of His government and peace there shall be no end, upon the throne of David, and upon his kingdom, to order it, and to establish it with judgment and with justice from henceforth even forever. The zeal of the Lord of hosts will perform this" (Isa. 9:7).
Christ will bring the very Kingdom that He instructed men to seek and pray for. This government is coming and will bring peace—with no end—established with judgment and justice. Clearly, these are qualities all nations desire! This is the picture that billions should desire to replace the grim portrait of 2016.
"The plight of all nations today stands in stark contrast to the world that is coming," Real Truth editor-in-chief David C. Pack states in his book Tomorrow's Wonderful World – An Inside View! He continues, "An artistic masterpiece soon to be unveiled, a fantastic future—truly incredible!—lies ahead for every nation of the world!"
Looking around the world now, it can seem that the desire of all nations will never be fulfilled. Yet Mr. Pack writes that Christ will "usher in peace, happiness, unity, abundance, and prosperity for every human being and every country on Earth. While such a vision may seem impossible, it will happen—and in your lifetime!"
Again, this will not occur automatically. God must fulfill His intricate Master Plan, which involves events today as well as ushering in a new, better world order.
Read the rest of Mr. Pack's book Tomorrow's Wonderful World – An Inside View! It will allow you see a portrait of a wonderful world beyond 2016.