The treaty designed to curb Iran's nuclear program is worsening political rifts.
Learn the
why

behind the headlines.

Subscribe to the Real Truth for FREE news and analysis.

Subscribe Now
Relations between nations are shifting after the Joint Comprehensive Plan of Action, the deal between Iran and the P5+1—China, Russia, the United States, France, Germany and the United Kingdom—was formalized on July 14, 2015, in Vienna, Austria.
Several world powers hail the deal as a historic diplomatic, as opposed to military, solution toward maintaining stability in the Middle East. Proponents of the deal, including United States President Barack Obama and his administration, contend that it will prevent Iran from having the capacity to produce nuclear weapons. The deal requires Iran to eliminate 97 percent of its enriched uranium, from a total supply of 10,000 kg to 300 kg, for 15 years. Also, Iran must reduce its plutonium enrichment grade to 3.67 percent for 15 years (comparatively, medical research grade plutonium is enriched to 20 percent, and weapons-grade plutonium is enriched to 90 percent), and reduce the number of centrifuges from 19,000 to 6,000 for 10 years.
Though some fear the time limits would only delay Iran from having the capacity to develop atomic weapons, U.S. Secretary of State John Kerry assured the House of Representatives Foreign Affairs Committee during a Senate hearing, "Iran has agreed to refrain from producing or acquiring highly enriched uranium and weapons-grade plutonium for nuclear weapons forever."
But the commitment from Iran—which has not had the most trustworthy track record—is yet to be tested. One element of the deal as reported by U.S. News & World Report is that "Iran has a total of 24 days to delay any set of inspections." A great concern with this is that "there is a lot of illicit activity that Iran can hide with 24 days' notice," the media outlet stated.
Also, many have noted vague points in the deal. Business Insider reported: "The deal actually obligates the US to render various forms of assistance to Iran's nuclear program, as the signatories also committed to helping Iran construct a fuel fabrication facility that would let Iran convert enriched uranium into fuel assemblies for civilian nuclear reactors."
"At the same time, it's unclear what happens to this cooperation if trust between the US and its allies begins to fray as the deal progresses: If Israel ever decided it was necessary to launch cyber attacks on Iran's nuclear facilities at a time when the US considered Iran to be in compliance with the deal, would America be obligated to side with an enemy state against a longstanding friend? [Mr.] Kerry wasn't exactly sure—and the American public might only find out the answer to that question if the deal is ever tested in reality."
Also worrying opponents of the deal are stipulations to lift an arms embargo on Iran five years from now, and a ballistic missile components embargo in eight years. This signifies that the global community would be allowing the nation access to weapons materials that could ultimately be used against West-friendly nations such as Israel.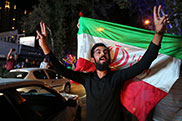 Atta Kenare/AFP/Getty Images
Israeli Prime Minister Benjamin Netanyahu fears that "the deal will do little to curb Tehran's nuclear ambitions…" (Reuters), and the only loss Iran takes is a temporary delay in nuclear activity. He said in an interview on CBS that the deal "may block or delay Iran's path to one or two bombs for the next few years, assuming they don't cheat, but paves their way to many, many bombs after a decade or so."
In exchange for giving up elements of their nuclear program, crippling economic, energy, trade and transportation sanctions would be dropped by the EU and U.S. This would mark the end of American economic restrictions that have been in place since 1979 when Iranian students stormed the U.S. embassy in Tehran.
The international community must also contend with the possibility that Tehran could use the assets to fund terrorist activities and support proxy wars against rival nations. Should Iran prove to inspectors that it is abiding by the deal, at least $55 billion in frozen assets will be released, according to the U.S. treasury secretary. While this is expected to be an economic boost to Iranian citizens and business, which have suffered under financial restraint for decades, many see it as a threat to world security.
Mr. Netanyahu decried the deal as "a threat to his country's survival" (Reuters). He also fears that that "Iran posed a 'formidable' threat to Europe, accusing its proxy Hezbollah of operating cells across the continent," Agence France-Presse reported.
"[In June], a member of the Lebanese Shiite militant group was jailed in Cyprus for plotting attacks on Israeli targets on the Mediterranean island.
"Netanyahu, on an official visit to Nicosia, said 'Iran and Hezbollah organise a terrorist network that covers over 30 countries on five continents, including just about every country in Europe.'"
The prime minister has actively sought to gain the support of the U.S. Congress to repeal the lifting of most U.S. sanctions.
Reuters reported: "Representative Ed Royce, the committee's Republican chairman, said the deal gives Iran a 'cash bonanza,' while weakening Washington's ability to pressure Tehran."
"Others [in Congress] expressed concern about Americans held in Iranian prisons or worried about Iran's backing militants.
"'They support Hamas, Hezbollah and Houthi, and those are just the organizations that begin with the letter "H,"' said Democratic Representative Brad Sherman."
By September 17, Congress will vote whether to drop or keep U.S. sanctions. Even then, President Obama has promised to veto any attempt by Congress to reduce the effects of the deal. The White House is confident that there are no better alternatives. "Obama said Israel, widely assumed to be the Middle East's only nuclear-armed state, had legitimate security concerns but insisted that danger would be compounded if Iran acquired a nuclear weapon" (Reuters).
Serious concerns on both sides continue to cause diplomatic tensions between the White House and the Israeli government.