A key player in brokering peace in the Middle East, King Abdullah faces more challenges now than ever before.
Learn the
why

behind the headlines.

Subscribe to the Real Truth for FREE news and analysis.

Subscribe Now
Dressed in a black suit and traditional Arab headdress, King Abdullah II stood before a painting of his late father, King Hussein. Muffled sobs echoed throughout Jordan's Parliament chamber as he was sworn in as the nation's new leader just a few hours after the funeral of one of the Middle East's longest-serving leaders.
A mere 14 days prior, King Hussein had returned home from battling cancer and shocked the nation by demoting his brother, then Crown Prince Hassan, and decreeing his eldest son heir to the throne.
The young monarch understood he had big shoes to fill. King Hussein had been admired and respected not only by his country for his strength of character, but also by leaders and nations globally.
It did not take long for King Abdullah, a father of four, to win the loyalty of his countrymen. Following in the footsteps of King Hussein, the new monarch connected with Jordanians on a personal level through his interest in sports, motorcycles and racing and the fact that his wife, Queen Rania, was a commoner and Palestinian.
As with others in the Middle East, King Abdullah had been exposed to violence in his country. At five years old, he had been introduced to the conflict between Palestinians and Israelis, with several attacks striking close to home. To remove him from the line of fire, his parents sent him to St. Edmund's Prep School in England. A few years later, he was transferred to Deerfield Academy, an American preparatory school in Massachusetts.
Following his schooling, he continued his education at The Royal Military Academy Sandhurst in the United Kingdom and enlisted for a time in the British Army.
From there, Prince Abdullah returned to his homeland to serve in the armed forces. He rose through the ranks, ultimately receiving the status of Major General in the Jordanian Special Forces.
Upon taking office, he used his Western education, which also included time at Georgetown University in Washington, D.C., and Pembroke College in Oxford, England, to bring modernity to his country. He focused on boosting the faltering economy and addressing social issues such as poverty.
His main goal, however, has always been to help bring peace to the Israeli-Palestinian conflict.
Ten years after taking office, King Abdullah expressed his aspirations in his book Our Last Best Chance – The Pursuit of Peace in a Time of Peril, in which he stated, "Two years ago, when I started writing this book, I hoped it would reveal the inner workings of how, against great odds, the United States, Israel, and the Arab and Muslim world had brokered peace in the Middle East. As I write these words, however, I can only say this is a story about how peace has continued to elude our grasp. And yet, in my region, where optimism is even more precious than water, we cannot afford to give up hope."
For over 15 years as the leader of Jordan, King Abdullah has not stopped working to broker peace in the Middle East. His methods, however, have been untraditional. He has typically had a behind-the-scenes role, often supporting countries such as Egypt and Saudi Arabia, while striving to deftly navigate the rocky waters of international relations.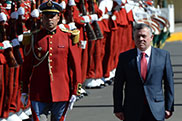 Fadel Senna/AFP/Getty Images
This was evident at the March 2015 Arab League summit, in which member nations formally announced for the first time in 65 years that they would form a joint military force to combat the threat of the Islamic State and Iran-backed militants in the region. Jordan was one of the nations that voluntarily agreed to contribute troops.
With Islamic State's territory spreading, Syria's internal conflagration still burning, Iran pressing for greater nuclear capability, and Islamic terrorists threatening countries in the region, all eyes are on the Middle East—including one of the most prominent proponents of unity in the region—King Abdullah.
National Reforms
Throughout his time as Jordan's leader, King Abdullah has used his Western education to advance what he believes is the nation's greatest asset—its people. He modeled the country's first boarding school, King's Academy, after Deerfield, following the American Advanced Placement curriculum. All of the first graduating class in 2010 went on to universities around the world, including Harvard, Cornell, Yale and Stanford. There are now 33 public and private universities as well as 51 community colleges in Jordan, which are attended by thousands of students.
Alongside educational reforms, King Abdullah has taken strides to strengthen the nation's economy.
Upon taking office, King Abdullah also took the bold step of seeking membership in the World Trade Organization—an unprecedented move in the Arab world. Within one year, the progressive nation was accepted. In September 2001, Jordan became the first Arab nation to be granted a free trade agreement with the United States, which was hoped would boost the economy through increased exports and lowered tariffs.
Although Jordan's natural resources are limited, over the last 16 years, up to 6 percent of the world's uranium supply has been found under Jordanian soil. Tapping into these deposits has opened the door to nuclear energy and reduced the nation's reliance on foreign oil and gas imports.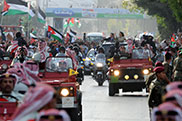 Fadel Senna/AFP/Getty Images
In addition, King Abdullah has focused on creating jobs for Jordan's rapidly growing population. The country is the only Arab nation taking extensive measures to bring stability to the lives of refugees and the nation's economy alike.
So far, thousands of refugees have been incorporated into Jordanian society, making many of them legal citizens. There are over two million registered Palestinian refugees alone and 1.5 million have flooded over the borders as a result of the Syrian conflict.
Religion and Politics
King Abdullah understands the important role religion plays in politics. As the administrative authority over the Temple Mount in Jerusalem, a devout moderate Muslim, and a direct descendant of the religion's founder, Mohammed, he holds a unique position in seeking peace between the three main monotheistic religions of the world: Christianity, Judaism and Islam.
In May 2014, King Abdullah welcomed Pope Francis to Amman, where they spoke about the need for coexistence and religious peace.
While speaking to the leader of the Catholic Church, King Abdullah stated: "Indeed, the world is rich with people of good will, who seek to uphold human dignity and peaceful coexistence. Let me acknowledge, with gratitude, your leadership in this cause. You have committed yourself to dialogue, especially with Islam. Muslims everywhere appreciate your messages of esteem and friendship" (Royal Hashemite Court).
He still maintains what he told the United Nations in 2008: "There must be a new and global dialogue among people of different faiths and civilizations. Such a dialogue is essential, to reveal the commonalities that unite humanity…It teaches people to respect their differences. It opens eyes and hearts to the beauty of diversity. It helps disentangle fact from fiction. And it exposes the fraudulence of extremist teachings."
King Abdullah is staunchly opposed to radical forms of Islam and denies any affiliation terrorists have to the religion.
This issue came to the fore when the burning of the captured Jordanian pilot invoked worldwide outrage and strong action from King Abdullah. In a private meeting with U.S. lawmakers following the release of the graphic video, King Abdullah pledged to avenge the pilot's death.
The threat of the Islamic State crossing into Jordan's borders from the east and north is of mounting concern. Immediately after the pilot was burned, Jordan launched an airstrike on IS training centers in Syria.
Iran's increasing influence in the region is also troubling to the king.
"The Jordanian king has voiced concerns in the past over Iranian regional designs, and years ago issued a famous warning against the danger of the 'Shi'a Crescent' to the security and stability of the region," the newspaper Algemeiner reported.
Adding to the pressure from IS, Al-Hayat reported, "Iran's Revolutionary Guard along with Hezbollah operatives have…begun deploying [10,000-15,000 troops] along the Syrian-Jordanian border."
This unexpected move has left Jordanians unsettled about Tehran's motives.
Uzi Rabi, director of the Moshe Dayan Center at Tel Aviv University in Israel, said, "We are on a journey to an unknown chapter in the Middle East. Now, with no single group in control, there's an ongoing bloody struggle for Syria, Libya, Lebanon, Yemen and Iraq."
Israeli-Palestinian Conflict
While there are troubles on many fronts in the Middle East, King Abdullah continues to see only one end to the Gordian knot of confusion—a peace deal between Israel and Palestine.
The Israeli-Palestinian contention originates from their fundamental disagreement of religious beliefs and rights to land that stem from the Six-Day War in 1967, which was won by the Israelis. This gave Israel control over regions commonly known as the West Bank, Golan Heights, Gaza Strip, Sinai Peninsula, and the Old City of Jerusalem—known as Haram al-Sharif to Muslims. Monumental in significance to both religions, these territories are still contested to this day.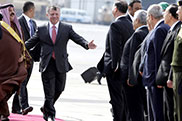 Khalil Mazraawi/AFP/Getty Images
In his book, King Abdullah described the core issue in the Middle East as the world's failure to "defend Palestinian rights."
Further, he stated: "Many in the West, when they look at our region, view it as a series of separate challenges…But the truth is that all of these are inter-connected. The thread that links them is the Israeli-Palestinian conflict."
Recognizing the longstanding relationship the United States has held with Israel, King Abdullah regularly visits America, striving to breathe life back into the stalled peace process.
During a joint meeting with the U.S. Congress, he stressed the importance of America's role in bringing a solution. According to a statement by the Royal Hashemite Court, he exhorted them to "work together [with Israel] to restore Palestine, a nation in despair and without hope. We must work together to restore peace, hope and opportunity to the Palestinian people. And in so doing, we will begin a process of building peace, not only throughout the region, but throughout the world…"
Since Israel is an ally, though, Jordan must walk a delicate line between what it wants and what Israel will agree to do. Both Israel and Jordan have the same desire for an Iran without nuclear weapons, terrorism put to an end in the Middle East, and a resolution to the Israeli-Palestinian conflict. The differences lie in how to achieve this desired outcome.
"Israel, in some ways, is Jordan's most important ally," a reporter for The Atlantic stated in a 2013 profile of the king. "As the guarantor of quiet on Israel's eastern front, and as the defender of the peace treaty that King Hussein forged with Yitzhak Rabin in 1994, Abdullah's Jordan is essential to the Israelis. Jordan and Israel are also working together to prevent the chaos of Syria from spilling into their countries. The king would not talk about joint Jordanian-Israeli operations, but several sources in Amman and Tel Aviv told me that Israeli drones are monitoring the Jordan-Syria border on Jordan's behalf, and that military and intelligence officials from the two countries are in constant contact, planning for post–Bashar al‑Assad chaos.
"Even as Abdullah envisions ceding more of his power, he draws one red line: 'I don't want a government to come in and say, "We repudiate the peace treaty with Israel."' He is cautious when speaking about the Israeli prime minister, Benjamin Netanyahu, with whom he is reportedly in regular communication. He would say only that his relationship with Netanyahu is 'very strong. Our discussions have really improved.'
"Though he acknowledges the role Netanyahu plays in maintaining Jordanian stability, he is not optimistic about Israel's future. King Abdullah is known as an advocate of two states for two peoples—Israel secure in its pre-1967 borders, Palestine to be established in Gaza and the West Bank—but when I asked him…how much time he thought was left to implement this idea, his answer surprised me. 'It could be too late already for the two-state solution,' he said. 'I don't know. Part of me is worried that is already past us.'"
King Abdullah reiterated his concerns about the process at the March 2015 Arab League summit: "This summit takes place while our Arab nation faces its most difficult challenges and circumstances. Achieving our common security and ensuring a safe future for all our people demand cooperation, coordination and collective pan-Arab efforts to achieve a comprehensive Arab strategy to address the growing dangers of terrorism and sectarian and political violence, which aim to distort the true image of our faith and its message of peace."
During the meeting, he admonished Muslims and Arabs to unite in a coalition to beat terrorism: "…because this war is our war, we, Muslims and Arabs, must unite our efforts and lead an Arab-Muslim coalition to face terrorism and confront all forms of Islamophobia, which feed religious extremism."
As the Arab League summit made clear, the now-seasoned king is between a rock and a hard place in an area considered a hotbed of instability. It remains to be seen how the conflict will play out—and how Jordan's role will affect the future of the region.