Despite continuing instability, the nation is a dormant superpower. All it needs is a government that can deliver.
Learn the
why

behind the headlines.

Subscribe to the Real Truth for FREE news and analysis.

Subscribe Now
A modern description of Egypt's tourist attractions reads like a verse out of the French-revolution-themed musical based on Victor Hugo's "Les Miserables": "Empty chairs at empty tables where my friends will meet no more."
Only this time, the words could be changed to reflect what is currently occurring at its cultural icons: "Empty sphinxes and empty pyramids where visitors go no more."
Since the 2011 revolution that ousted long-time leader Hosni Mubarak, the 87-million-strong nation has been mired in political upheaval, resulting in a swift drop in tourism. Markets are eerily vacant, souvenirs sit unbought. Only a handful of patrons fill restaurants that once buzzed with a myriad of languages, and millennia-old attractions experience just a trickle of people daily.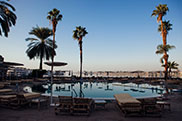 Ed Giles/Getty Images
"In 2010, 14.7 million visitors came to Egypt generating $12.5 billion dollars in revenue," CNN reported. "Last year [2013], 9.5 million visitors came to Egypt generating $5.8 billion dollars in revenue—a three year drop of more than 5 million visitors and roughly $6 billion dollars."
The rollercoaster ride of governmental instability has been a continuing scourge as the "tourism sector represents 11.3% of Egypt's GDP and is the largest source of income for the economy after remittances from Egyptians abroad," Gulf News stated.
As of April 2014, the bad news has continued: "The number of tourists who visited Egypt in April was down by 21 per cent compared to the same month a year earlier, the tourism ministry said in a statement cited by state-run Al-Ahram website…The ministry said only 859,889 tourists visited Egypt in April, adding more than 1.11 million tourists visited the country in April 2013" (The Gulf Today).
Tourist warnings from more than 15 nations regarding political unrest as well as deadly clashes between demonstrators and security forces have pushed away visitors. Eyewitness accounts of tank-lined streets and violence against Westerners have not helped either.
"The loss of tourism has taken a disastrous toll on the economy, starving the country of income and badly needed foreign currency," Telegraph reported. "Now many people in Egypt talk not just about short-term pain but also long-term damage as workers forsake years of training and experience to hunt for new jobs outside the industry and students abandon what had been the country's most promising career track."
The decrease in tourism demonstrates just one aspect of Egypt's struggle to recapture its "Mother of the World" identity.
Once the breadbasket of the Mediterranean, due to its coveted vast wheat fields, the nation was considered a center of culture, architecture, history, commerce and education. It was a crucial part of the spice trade route from India and housed the largest library in the ancient world in its second-largest city, Alexandria. Its people were known for their business savvy and wisdom, even helping to avert disaster in surrounding countries by providing for them in times of drought.
Over the decades, Egypt has also been a crucial partner in maintaining Palestinian-Israeli peace negotiations and regional stability. No temporary peace has been achieved in the region without its participation. The nation has the most Westernized, technologically advanced, and sophisticated military in the region—rivaled only by Israel—and the largest and strongest force on the African continent and in the entire Middle East, including Iran.
Egypt's unique structures also demonstrate its rich cultural past. For example, the 450-foot Great Pyramid of Giza, the oldest and largest of the three pyramids in its capital of Cairo, took an estimated 10 to 20 years to build. Engineers still remain baffled as to how workers could achieve such precise measurements in construction. Some stones weighed as much as 80 tons and were carried distances of up to 500 miles by approximately 14,000 to 300,000 workers.
These pyramids, museums and sphinxes stand as a testament to the power Egypt once held. Yet many of these same cultural icons now sit vacant, unable to provide their people a source of income—all because the country cannot find internal peace and stability.
Why can Egypt not solve its own troubles and return to international prominence?
National Challenges
Within the last three years, Egyptians have developed a reputation for revolution.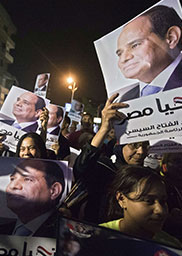 Khaled Desouki/AFP/Getty Images
"The government has struggled to meet the demands of Egypt's population through economic reform and massive investment in communications and physical infrastructure," CIA World Factbook stated. "Inspired by the 2010 Tunisian revolution, Egyptian opposition groups led demonstrations and labor strikes countrywide, culminating in President Hosni Mubarak's ouster. Egypt's military assumed national leadership until a new parliament was in place in early 2012; later that same year, Mohammed Morsi won the presidential election. Following often violent protests throughout the spring of 2013 against Morsi's government and the Muslim Brotherhood (MB), and massive anti-government demonstrations, the Egyptian Armed Forces (EAF) intervened and removed Morsi from power in mid-July 2013 and replaced him with interim president Adly Mansour. In mid-January 2014, voters approved a new constitution by referendum."
The new constitution paved the way for the May 2014 election of General Abdel Fattah al-Sisi, who led the overthrow of Mr. Morsi (also spelled Mursi). Mr. Sisi won a landslide victory against opponent Hamdeen Sabahi, receiving more than 95 percent of the vote—23.9 million votes—in an election that saw 47 percent of the approximately 54 million eligible Egyptians cast a ballot over a period of three days.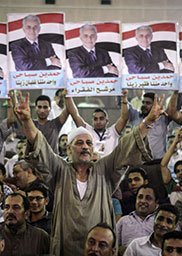 Mohamed El-Shahed/AFP/Getty Images
Because of his military backing, Mr. Sisi is widely considered capable of providing political and economic stability, according to The Independent: "The former army chief also has the support of Saudi Arabia, the United Arab Emirates and Kuwait, which see Mursi's Muslim Brotherhood as an existential threat. Gulf Arab states pumped billions of dollars into Egypt to keep the economy afloat."
Many analysts claim that the numbers, which were lower than expected by Mr. Sisi's team, demonstrate that Egypt is becoming weary of the democratic process and is looking for a leader to grab the reins of power.
"Nearly a year of tumult and violence has drained Egyptians of their optimism and battered the images of key players in the post-Mubarak era," Pew Research Center reported before the elections. "…72% of Egyptians are dissatisfied with their country's direction, and although most still want democratic rights and institutions, confidence in democracy is slipping. In a shift from previous years, Egyptians are now more likely to say that having a stable government (54%) is more important than having a democratic one (44%)."
Even if a leader can provide stability for Egypt, however, it alone would not eradicate the challenges facing the nation. And there are many…
Rising food prices: "After the 2011 revolution, poverty has been slowly rising in Egypt, while worries about food supplies have increased," CNN reported. "According to the U.N. World Food Programme, 17% of the country faced a shortage of food in 2011, compared with 14% in 2009. With the economy barely improving, poverty remains a pressing concern for millions."
Crime: "According to research by the Wilson Center, in 2010, there were about 200 reported incidents of armed robbery in Egypt; by 2012, that number had risen to 2,807 reported incidents" (ibid.).
Unemployment: "High levels of youth unemployment…represent another serious challenge for the new president," Carnegie's Endowment for International Peace's magazine Sada stated. "General unemployment in Egypt currently stands at 13.4 percent; nearly 70 percent of the unemployed are between 15 and 29 years, and over 80 percent are educated. Each year, over seven hundred thousand young Egyptians enter the job market for the first time, thus adding to the severity of the problem. With an already bloated government sector that no longer guarantees automatic employment for college graduates (a state policy that was in place from the 1960s to 1990s) and a non-dynamic private sector that increasingly operates under a highly problematic business environment, the only option left for most Egyptian youth seeking employment is in the informal sector, where jobs are largely characterized by low pay and low quality, with no work benefits and no prospects for career growth."
Government subsidies: "One of Sisi's biggest tests will be the politically-sensitive issue of energy subsidies which drain billions of dollars from the state budget every year," The Independent reported. "Businessmen have urged Sisi to raise energy prices even though that may trigger protests, or risk sinking the economy."
An article in the journal Topics in Middle Eastern and African Economies revealed: "The Egyptian government spends more than $15 billion a year on energy subsidies, and can't cut any percentage of this spending, otherwise it may face harsh public opposition. The temporary supply shortages that followed the upheaval coupled with rising international prices of food and fuel have been adding to the pressure on the domestic price level since early 2011."
Misused Resources
Such widespread problems cloud the fact that Egypt has been a nearly continuous regional powerhouse throughout history. As far as sheer numbers go, the nation today should still be a leading player in the Middle East—and even the entire world. Nearly every major indicator makes this clear.
First look at population. There are 86.9 million Egyptians, which places it 16th in the world. It has a commanding lead over all other Middle Eastern nations. Cairo is the largest Arab city and second largest in Africa.
Then there is the nation's economy, with a GDP of $551 billion. For the region, it is second only to Saudi Arabia's $927.8 billion. Note that Egypt is in the number two slot despite not having huge oil reserves.
There is also geography. The nation's strategic position makes it a crossroads for Europe, Africa and Asia. Its control over the Suez Canal, which connects the Mediterranean and Red seas, makes it a crucial part of commerce and travel. Annual revenues from tolls exceed $5 billion.
Yet all of these positive factors have been largely negated due to decades of governmental mismanagement. At every turn, Egypt is a land of unrealized opportunities.
John Brian Shannon, who is on the Editorial Board for the Arabian Gazette, wrote on his news blog: "If ever a country had the gift of being placed in the best geographical position on the world map, it is Egypt.
"There they are, with the Mediterranean to the north, the Suez Canal and the Red Sea to the north and east, and all of Africa to the south and west of them. It is literally the crossroads between Asia, Europe and Africa.
"Not to mention Egypt's priceless Nile River and the still largely untapped resources such as its hydro-electric power opportunities, the fertile agricultural land of its Nile Valley, and the country's unimaginable solar and wind power potential.
"Egypt has somewhat more than 84 million people to help bring all those opportunities to fruition, who live on only 3 percent of the total land area of the country, which is the fertile Nile Valley.
"Some 96 percent of the country is desert with nothing in sight except the blasting Sun and sand dunes. One tiny corner of Egypt covered with solar photovoltaic panels (or thermal solar power) could power all of Europe!
"Some of that unused land could be used for wind farms, as there is plenty of untapped potential there too."
In summary, Mr. Shannon stated, "Egypt should be the richest nation (per capita) on the planet."
But it is not. Another reason for this is the underexploited area of trade. Right now, the nation's main export partners are its neighbors or close allies. These include Italy, India, the United States, Saudi Arabia, Turkey and Libya.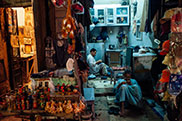 Ed Giles/Getty Images
Experts believe that if Egypt wants to fuel economic growth, it must do so by expanding its gaze. Daily News Egypt reported on the 2014 Export Diversification Seminar in Cairo, which focused on the Middle East and North Africa region. The paper quoted Caroline Freund of the Peterson Institute of International Economics: "The region is exporting at [a] third of its potential."
Right now, trade brings in $24.81 billion per year. If this was expanded by two-thirds, it would be $74.43 billion!
An overall theme of the seminar was that Egypt and its neighbors must diversify products and export destinations. This move, Ms. Freund stated, would also increase job opportunities in the nation.
In addition, a Gallup poll revealed that, in 2010, 71 percent of Egyptians age 15-29 felt the nation's leadership was not harnessing their potential. Understandably, this segment of the population was key in ousting Mr. Mubarak the following year. Analysts feel that, for the nation to move forward, it must engage this demographic.
The employment market has continued to worsen since the revolution. A July 2013 Silatech/Gallup report showed that the number of young Egyptians who feel they have access to good jobs has continued to dwindle. In 2010, 13 percent said they were satisfied, then 10 percent in 2011, and 8 percent in 2012.
For Egyptians, all this wasted potential is a blow to the national pride of a people who have enjoyed sustained, incredible prominence throughout much of history.
Past Prestige
As the "Mother of the World," Egypt was the globe's first great empire. The Nile River gave it the resources to amass incredible wealth, military might, knowledge and technological innovation. Its historical importance becomes even more evident by examining its presence in the Bible. The nation features heavily in the books of Genesis and Exodus. Patriarchs Abraham, Isaac and Jacob sought refuge there during times of famine. It provided a training ground for two of Israel's most famous leaders: Moses and Joseph. Jesus Christ went there as a baby to escape Herod's order to slay all infant boys. The list could go on…
Even the number of times Egypt is mentioned in the Scriptures bolsters this point. The terms "Egypt," "Egyptian" and "Egyptians" are found 732 times in the King James Version. By comparison, variations of the word "Babylon" can be found 284 times, "Philistine" 284 times, "Ethiopia" 20 times, and "Libya" three times.
Throughout the Bible, Egypt is continuously shown to be a land of unsurpassed bounty. In Genesis 13:10, its lush landscape was compared to the Garden of Eden.
The presence of slaves is another indicator of military might and economic power. The fact that the Pharaohs had the time and ability to dream up building projects like the pyramids and sphinx—let alone complete them—is another proof of the region's vast wealth.
The Bible also traces Egypt's prominence throughout history. Daniel 11 starts by talking about Alexander the Great's untimely death and how his kingdom was broken into four parts.
Notice: "And a mighty king shall stand up [Alexander], that shall rule with great dominion, and do according to his will. And when he shall stand up, his kingdom shall be broken, and shall be divided toward the four winds of heaven; and not to his posterity, nor according to his dominion which he ruled: for his kingdom shall be plucked up, even for others beside those" (vs. 3-4).
The empire was divided into sections labeled north, south, east and west. Much of the time, Egypt was at the center of the kingdom of the south.
Verse 5 continues: "And the king of the south shall be strong, and one of his princes; and he shall be strong above him, and have dominion; his dominion shall be a great dominion."
At this time in history Egypt again reached incredible heights!
The next verse describes when the reigning king of the north Antiochus II Theos divorced his wife Laodice to marry Berenice, the daughter of Ptolemy II Philadelphus (the king of the south at the time). The passage describes Berenice losing the "power of her arm," her husband, and that he would not "stand." It also mentions that her father (called "he that begat her") would be "given up," or killed. These three did come to a bad end when Laodice had Antiochus and Berenice assassinated after the death of Ptolemy.
Read verse 6 carefully: "And in the end of years they shall join themselves together; for the king's daughter of the south shall come to the king of the north to make an agreement: but she shall not retain the power of the arm…but she shall be given up [killed]…and he that begat her, and he that strengthened her in these times."
Stop. Notice that Daniel 11 is written in future tense. This is because the book of Daniel was recorded around 600 BC—almost 300 years before Alexander the Great was born!
This is one major proof of the Bible's authority as the inspired Word of God.
One-third of this Book is prophecy, which can be likened to history written in advance. (Read Bible Authority...Can It Be Proven? for further proof of the validity of the prophetic events foretold throughout God's Word.)
The rest of Daniel 11 confirms the Bible's ironclad authority. The chapter shows the kingdom of the south continuing its historical role of being a major player in the region.
Yet the prophecies related to Egypt are not all in the past. Unknown to almost all, this ancient text proves both Egypt's former glory and its soon-coming return to the heights of power.
Superpower in Waiting
Through the Bible, God declares that the nation will once again—in the next few years—reach prominence. It will tap into its human, military and economic potential to become a regional and global player.
Egyptians long to reclaim their historical spot on the world stage. To do this, they will need a leader that can unite the conservative Muslims, the 20-something revolutionaries, and the older generation that favors the firm hand of a military leader. They will need a strong stable government to rally behind. Whether that is one led by Mr. Sisi or someone else remains to be seen.
The Middle East is the focal point of what God foretold for our time in His Word.