The nation's continued unrest and severe drought has led to widespread famine and disease. What are the global implications of the country's plight?
Learn the
why

behind the headlines.

Subscribe to the Real Truth for FREE news and analysis.

Subscribe Now
Traumatized, exhausted, and on the brink of starvation, a Somali family stumbled into Dagahaley refugee camp in Dadaab, Kenya.
The Associated Press interviewed the father, who described the conditions that drove the family to flee across the border. They were farmers, living off their crops and the milk of their animals. After a few seasons passed with little rain, the family moved into a small town.
On his first attempt to flee, militants, with links to the terrorist group al-Qaida, caught him and threw him in jail for two days, where he was beaten and mocked. The man described his jailers' reasoning: "Kenya is a Christian country and if you go there, [they consider you] a Christian."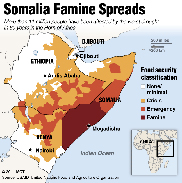 After he was released, he and his family fled. "We faced hunger, thirst, danger and exhaustion. It took us 17 days to arrive here (at Dagahaley refugee camp). One night a lion almost ate me before I scared it away with my flashlight."
Wild beasts were not the only enemy in the wilderness. The man continued, "The worst experience we faced was when gunmen ambushed. The gang robbed us of the little food we had with us and raped our women in front of us as if they wanted us to witness their horrors…That ordeal was the worst I have ever faced in my life. I once thought of looking for ways to get a gun to take revenge."
Three days later, his 7-year-old boy died of "hunger, exhaustion and disease."
Despite unsanitary conditions and meager rations in the refugee camp, the man said he will remain there for now and go back to Somalia only "if a full peace dominates there."
For the nation, military conflict has led to famine, inevitable starvation, disease and death. A similar deadly cycle exists throughout Africa.
World's Worst Humanitarian Disaster
Somalia is in the throes of its worst drought in 60 years, which has claimed thousands of lives in the last three months, including more than 29,000 children under age 5. The United Nations referred to it as the "worst humanitarian disaster in the world."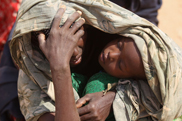 Oli Scarff/Getty Images
"Some 3.7 million people, nearly half the Somali population, are now directly at risk of famine and tens of thousands have already perished," a UN release stated.
"In the first half of 2011 alone, more than 83,000 Somalis fled into Kenya and over 54,000 into Ethiopia," the United Nations High Commissioner for Refugees organization stated on its website. "In July, daily arrivals in each country ranged from 1,300 to 1,700. An additional 2,600 Somalis had crossed the north-western border into Djibouti by mid-2011."
Dadaab is home to the largest refugee complex in the world. It was originally built to house at least 90,000 refugees, but it now holds almost half a million! Conditions there are unsanitary, with overcrowded tent villages becoming breeding grounds for cholera and malaria.
"A measles outbreak was reported in Hagadera camp…" the UN Office for the Coordination of Humanitarian Affairs said in a statement. "Earlier, a cholera outbreak had been reported."
"We don't see the end of it," Tarik Jasarevic, a World Health Organization spokesman said about the refugees' situation in The New York Times. "As long as we have people on the move, in crowded places and using contaminated water, we will see a rise in cases [of cholera]. All the causes are still there."
Hostile Territory
Delivering aid to Somalia is also a challenge as al-Shabaab, an Islamist militant group, governs the area.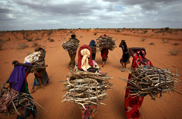 Barbara Davidson/Los Angeles Times/MCT
"Somalia hasn't been self-sufficient since the early 1970s," political science professor Ken Menkhaus told the non-profit Enough Project. "But aid delivery has been suspended in recent years for three main reasons: Insecurity—In 2008 a third of all casualties worldwide occurred in Somalia, so aid groups started pulling out because they couldn't justify the risk. Second, the U.S. government's suspension of aid due to counterterrorism grounds; allowing aid to reach Shabaab [the Islamist terrorist group that controls the area] was a violation of the Patriot Act. Third was Shabaab's ban on most international agencies from working in the areas it controlled, accusing them of being spies and of trying to put Somali farmers out of business…As long as Shabaab continues blocking food aid, we're limited in what we can do."
The Somalia Food Security and Nutrition Analysis Unit warned: "Despite increased attention in recent weeks, current humanitarian response remains inadequate, due in part to ongoing access restrictions and difficulties in scaling-up emergency assistance programs, as well as funding gaps. As a result, famine is expected to spread across all regions of the south in the coming four to six weeks and is likely to persist until at least December 2011."
Meanwhile, hundreds of people continue to die daily.
Not Alone
Somalia's plight is just one of many similar crises occurring across the African continent. The countries to which many Somalis are fleeing are themselves facing severe drought.
"An estimated 12.4 million people in the drought-hit Horn of Africa—Djibouti, Ethiopia, Kenya and Somalia—are facing severe food shortages and are in need of international assistance…" the United Nations reported in a statement.
For over 30 years, no fewer than 28 countries in sub-Saharan Africa have been at war or are on the brink. Though they are not constantly in the news, it is estimated that over nine million people have lost their lives due to civil unrest in Africa since the Cold War ended. About the same number are either refugees or have been displaced from their homes.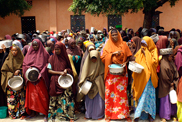 Abdurashid Abdulle/AFP/Getty Images
Democratic Republic of Congo: The country is still trying to recover from many years of conflict, which claimed the lives of over five million people. Apart from those who fell to the bullets of war, some succumbed to disease and malnutrition.
Even though apparent peace has returned to most parts of the Congo, the eastern part of the country remains unstable.
Sudan: Since 2003, the nation has been in conflict due to accusations of neglect and discrimination leveled by black African tribesmen against the Arab-dominated Sudanese government in Khartoum.
The UN reported that large zones are "cut off because of continued fighting between Government forces, allied militiamen and rebels based in the area…as many as 300,000 people are estimated to have been killed and 2.7 million others displaced."
According to WHO, "Protracted conflicts and continuing underdevelopment has contributed [to] the exodus of skilled manpower."
Zimbabwe: The country faced a bloody seven-year civil war in the 1970s. Following the war, it has repeatedly faced food shortages and disease, including a cholera outbreak that claimed the lives of more than 3,000 people. With more than 60,000 currently affected, the WHO describes the situation as their "worst case scenario" (BBC).
Ivory Coast: Violence after the November 2010 elections nearly led to outright civil war with approximately 200,000 people displaced. A recent WHO assessment showed that "52% (55 out of 106) of the health centres and five of the eight hospitals were no longer functioning due to lack of staff…Half the district pharmacies have been looted, ambulances have disappeared and disease surveillance has been interrupted."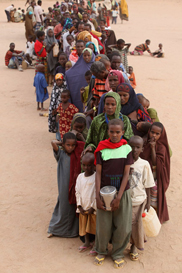 Oli Scarff/Getty Images
According to the report, malaria, acute respiratory ailments, and cholera are among the main health concerns.
Disastrous Cycle Foretold
Throughout the African continent—and across the world—a cycle repeats itself. War disrupts agricultural procedures because farmers cannot work their fields. War-caused food deficiencies and tumbling markets skyrocket prices, leading to diminished financial resources with which to purchase food. Malnutrition then leads to disease and death.
These conditions paired with unstable political climates, lack of effective healthcare systems, or limited aid due to hostile environments, form the breeding ground for widespread loss of life.
While war, famine and disease have always plagued mankind to some degree, today's conditions signal increased trouble ahead.
Never has the world's population bordered on seven billion or has its citizenry had the ability to travel across the world in a matter of hours. This alone makes the potential to spread disease unfathomable.
Never has the planet been so polluted. This has weakened immune systems, making disease potentially uncontainable. Add to this the emergence of multi-drug resistant organisms that never existed before.
And never before has mankind possessed the kind of weapons it does today. Unlike any previous time in history, humanity is now capable of annihilating itself.
This deadly cycle of war, famine and disease was foretold to escalate, as explained in the Bible—a Book most never turn to for keys to understanding the world's greatest problems. Consider what Jesus Christ told His disciples in the book of Matthew: "For nation shall rise against nation, and kingdom against kingdom: and there shall be famines, and pestilences, and earthquakes, in diverse places" (24:7).
Christ's words are written in the future tense, signifying that these problems would worsen in latter times. His words resonate in what is occurring throughout Africa and other parts of the world today. Yet they were spoken more than 2,000 years ago!
This same cycle is expanded in the book of Revelation, this time as horses riding over the entire earth: "…behold a white horse: and he that sat on him had a bow; and a crown was given unto him: and he went forth conquering, and to conquer" (6:2). This first horse symbolizes the trouble that has occurred as a result of manmade religion.
Two verses later it states, "And there went out another horse that was red: and power was given to him that sat thereon to take peace from the earth, and that they should kill one another: and there was given unto him a great sword" (vs. 4). The red horse symbolizes war.
The following verses introduce famine: "And I beheld, and lo a black horse; and he that sat on him had a pair of balances in his hand. And I heard a voice…say, A measure of wheat for a penny, and three measures of barley for a penny; and see you hurt not the oil and the wine" (6:5-8).
The fourth horseman brings much more than disease: "And I looked, and behold a pale horse: and his name that sat on him was Death, and Hell followed with him. And power was given unto them over the fourth part of the earth [one in every four people!], to kill with sword, and with hunger, and with death, and with the beasts of the earth."
All four horses riding together have the power to kill one quarter of all human beings! But what does this mean—and why does this occur?
For millennia, mankind has attempted to solve the problems of competing religions, war, famine and disease, yet without success. Solving war has been through more war. War has led to blocking of resources, causing famine. Malnourishment causes weakened bodies to succumb to disease.
The crisis in Somalia is just a microcosm of what will soon occur worldwide.
Yet unlike what is happening there, the four horsemen will affect the whole earth—not just remote desert areas of Africa or the war-torn Middle East as it does now.
But many who read these words will not believe what the Bible says.
In The World to Come broadcast series "A Fourth of Mankind," David C. Pack states, "Most people do live their lives believing bad things only happen to others—other people get cancer—other people's homes burn down—other people's children die of drug overdoses—and so forth. The truth is that for everyone who is forced to suffer one of these tragic events there is someone who probably believed such awful things could only happen to someone else.
"But all mankind is on a collision course with cataclysmic events so stunning—so staggering—they defy imagination. Utterly horrific prophecies will soon affect every human being on Earth—every human being—no exceptions! They do not describe a mere few who are hit by 'accidents' of 'time and chance'…"
"While the vast majority remain ignorant of the precise sequence of key prophetic fulfillments, even fewer understand the correct timing and true impact of these events—with both of these of paramount importance in assembling the final prophetic picture."
Yet there is hope!
When end-time prophecy is understood, the ride of the four horsemen signals that world peace is near, meaning Africa—and all other continents—will finally experience the prosperity they have sought for centuries.
Consider the words of the prophet Isaiah: "The wilderness and the solitary place…and the desert shall rejoice, and blossom as the rose. It shall blossom abundantly, and rejoice even with joy and singing…Then shall the lame man leap as a hart, and the tongue of the dumb sing: for in the wilderness shall waters break out, and streams in the desert. And the parched ground shall become a pool, and the thirsty land springs of water: in the habitation of dragons, where each lay, shall be grass with reeds and rushes" (35:1-7).
To learn when and how this will occur—and the impact it will have on your life—read Are These the Last Days?