Food crises knock on the doors of every nation, causing even prosperous countries to wonder how long they can provide for others.
Learn the
why

behind the headlines.

Subscribe to the Real Truth for FREE news and analysis.

Subscribe Now
An African child in a dusty rural village wakes up hungry. Malnourished, thirsty, tired and sickly, he reaches out to his parents, hoping they will be able to give him sustenance. With faraway looks in their eyes, they shake their heads, clutching their own stomachs as he pulls his hand back—empty. They are unable to provide for him. After extreme drought destroyed their crops, his family must now rely on government aid that is often insufficient—if it comes at all.
This is life for 1 billion people worldwide who suffer from chronic hunger, with most in developing nations forced to swallow their pride and request aid—often struggling in situations over which they have no control.
Sadly, their governments, cash-strapped and lacking adequate food supplies, have little to offer. Even they must turn to a different source—aid groups funded by wealthier, industrialized nations.
In the past, when poorer countries struggled to feed their peoples, other nations stepped in and provided assistance. But with wildfires, insect infestations, plant diseases, floods, droughts and other nature-related disasters wreaking havoc on essential food-output regions worldwide, some of the most fertile and historically productive agricultural areas are facing devastation—one disaster at a time.
Wildfires in Russia, locusts in Australia, floods in the Midwestern United States and record freezing temperatures in the nation's southern citrus-producing regions are quickly bringing higher-income nations to a point where they are no longer able to provide for nations experiencing food shortages. Add to these problems the prospect of the world's population growing by another 3 billion in the next four decades. Clearly they are at an impasse in their ability to help others.
According to the U.S. State Department, "Global food supplies must increase by an estimated 50 percent to meet expected demand in the next 20 years."
Wealthier nations taking care of less developed ones has long been one of mankind's best—and often only—methods of fighting world hunger. The question must be asked: can the world's richest nations, some of which are unable to end hunger for their own citizens, realistically continue to support billions of others?
Aiding Developing Nations
Hunger is one of the worst crises facing humanity today, yet it is one of the least publicized.
In an effort to develop effective solutions to combat the situation, 400 of the world's top scientists created the International Assessment of Agricultural Knowledge, Science and Technology for Development (IAASTD), which produced a controversial 2008 report addressing how to solve man's food-security problems.
Having studied global agriculture for years, the experts involved in the project concluded that the real crisis—how mankind will feed itself in the future—has been pushed aside in favor of other pressing issues, such as extreme weather, disease, war and terrorism, creating a now impossible-to-contain situation.
"The way the world grows its food will have to change radically to better serve the poor and hungry if the world is to cope with a growing population and climate change while avoiding social breakdown and environmental collapse," the report stated.
The study warned the world has little time to act, and that without implementing drastic changes now, the future of the next generation is at stake.
An IAASTD statement said the authors of the report "conclude we have little time to lose if we are to change course. Continuing with current trends would exhaust our resources and put our children's future in jeopardy."
The statement quoted Professor Judi Wakhungu, who said, "We must cooperate now, because no single institution, no single nation, no single region, can tackle this issue alone. The time is now."
Just one year after the study's publication, world leaders again discussed the issue of food security during the G8 summit in Italy. During the meeting, a three-year initiative to develop poorer nations was agreed upon. It involved a commitment by the world's wealthiest nations to provide $20 billion in aid to those who are impoverished.
Initially, the United Nations issued a Millennium Declaration in 2000 to cut in half the number of people across the globe facing poverty and undernourishment by 2015. But at the G8 summit, leaders concluded in the final declaration that "the world is very far from reaching this goal according to the alarming data provided by the relevant international bodies."
With such little progress, where does this leave less self-sufficient nations?
Problems at Hand
Leaders of higher-income nations recognize that financially assisting poorer countries allows them to develop themselves.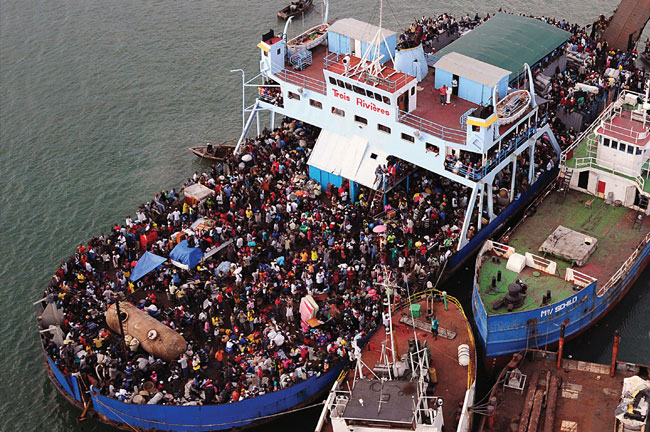 U.S. Navy via Getty Images
"We do not view this assistance as an end in itself," U.S. President Barack Obama said in a BBC article. "We believe that the purpose of aid must be to create the conditions where it's no longer needed, to help people become self-sufficient, provide for their families and lift their standards of living."
While developing nations are often told that in order to move out of poverty they must learn to provide for themselves, it is a concept that has yet to breed success. For example, in many poorer nations, desert or mountainous land does not support increased farming.
Another problem affecting food production is the dwindling availability of fresh water. "Current estimates indicate that we will not have enough water to sustain ourselves in 25 years time…when the current food crisis may turn into a perpetual crisis," ScienceDaily reported.
On top of increased world population, arable land is continually pushed beyond its natural production capacity. Once crops stop growing, land is often sprayed with a chemical concoction that forces even more productivity. After it has been completely devastated, the vast acreage is then sold for a profit and plowed, paved and built upon. As cities spring up and more farmland disappears worldwide, so does mankind's ability to feed large numbers of people.
With food becoming harder to find, wars over resources will become commonplace, as seen in the Darfur and Rwanda conflicts. And as nations compete for disappearing resources, environmental refugees will then be forced to flee to neighboring countries.
Bleak Picture?
Financial cutbacks have forced most Western nations to focus inward—and dramatically decrease their level of aid to other countries.
"In recent years, only about 4% of foreign assistance from the world's rich nations has been given to poor nations for agricultural development—such as installing irrigation systems and training farmers—compared with 18% in the late 1970s," The Wall Street Journal reported.
Additionally, the Guardian reported that millions could starve as a result of food aid cuts.
"The US, by far the world's biggest contributor to food aid, has so far pledged $800m less than in 2008; Saudi Arabia has paid only $10m in 2009 compared with $500m in 2008; and the EU has given $130m less. Britain's promise of $69m (£43.5m) this year is nearly $100m (£63m) less than 2008, and, if nothing more is given, will be its lowest contribution since 2001."
"Even under our best scenarios, we will end the year $2bn short," World Food Programme Director Josette Sheeran said. "Many of our funders do not feel that they need to give on the level of last year. They think the world food crisis is over, but in 80% of countries food prices are actually higher than one year ago" (ibid.).
Even if some Western nations bounce back and provide increased funds for poorer nations, how long would this last before another inevitable economic downturn?
An example of the fragility of richer nations' food production is the drought affecting Russia, which the country's Grain Union considers the worst since record-keeping began 130 years ago. Extremely dry conditions combined with wildfires have severely affected the country's crops, causing world wheat prices to rise to levels not seen since 1973. One senior trader told the Financial Times, "There is full blown panic in the European grain market."
The crisis in Russia has led Prime Minister Vladimir Putin to impose a ban on exports. In a cabinet meeting, Mr. Putin stated, "I think it would be expedient to introduce a temporary ban on export grains and other agricultural goods. We cannot allow an increase in domestic prices…" (ibid.). The ban, implemented August 15, will last until December 31.
When wealthier countries struggle to provide for their own populations, how can they be expected to support others?
In an editorial first published in The Australian, author Julian Cribb summarized the crisis:
"Resolving this issue is the scientific challenge of the Age…It requires nothing less than the reshaping of the way humanity produces food, feeds itself and manages the Earth's natural resources—a system mired in 7000 years of cultural tradition and contemporary economic and political power. According to IAASTD, farmers will not simply have to feed the world—a task requiring a doubling in the already immense global food supply—but also to restore its forests, cleanse its waters, protect its wild species, [and] improve its soils…"
In short, solving the food crisis involves an entire rewrite of society as we know it.
Overlooked Source
Scholars, scientists and experts—with the most knowledge man has ever accumulated—continue to seek solutions. So too do Christian groups, who sponsor regular missionary programs to nations unable to support themselves.
Christians are expected to help those in immediate need when the situation arises, as shown by the parable of the good Samaritan: "A certain man went down from Jerusalem to Jericho, and fell among thieves, which stripped him of his raiment, and wounded him, and departed, leaving him half dead…But a certain Samaritan, as he journeyed, came where he was: and when he saw him, he had compassion on him" (Luke 10:30, 33).
Yet the traditional Christian world misunderstands this parable and misses a huge element of what Jesus repeatedly instructed to give to the poor.
Notice what He says in Luke 4:18: "The Spirit of the Lord is upon Me, because He has anointed Me to preach the gospel to the poor; He has sent Me to heal the brokenhearted, to preach deliverance to the captives, and recovering of sight to the blind, to set at liberty them that are bruised." He said the same thing in Matthew 11:5 and Luke 7:22.
Christ said to give the gospel to the poor. What gospel? The only one He preached—"the kingdom of God" (Mark 1:15).
Jesus foretold that this kingdom—a world-ruling supergovernment—will be established at His coming. This prosperous government will be able to provide the means for the entire world to be taken care of and fed.
The prophet Isaiah recorded how God will begin to solve the problems of global hunger: "…and the government shall be upon His [Jesus Christ's] shoulder…Of the increase of His government and peace there shall be no end…to order it, and to establish it with judgment and with justice from henceforth even forever" (Isa. 9:6-7).
God's kingdom is also foretold in the book of Daniel: "And there was given Him [Christ] dominion, and glory, and a kingdom, that all people, nations, and languages, should serve Him: His dominion is an everlasting dominion, which shall not pass away, and His kingdom that which shall not be destroyed" (Dan. 7:14). To learn more about God's kingdom, read our booklet What Is the Kingdom of God?
In the near future, this government will be able to solve man's problems with food production and management. Mankind will then be taught the proper way to care for the land.
How? Passages throughout the Bible, overlooked by almost all, reveal a loving God's Plan for His Creation.
Land will become usable after Earth's topography is reformed: "Every valley shall be exalted, and every mountain and hill shall be made low: and the crooked shall be made straight, and the rough places plain…" (Isa. 40:4). This reshaping of the planet will make possible a much larger world population.
Abundant water sources will spring forth, meeting mankind's needs: "…for in the wilderness shall waters break out, and streams in the desert. And the parched ground shall become a pool, and the thirsty land springs of water…" (Isa. 35:6-7).
All nations—rich and poor—will be taught proper farming methods: "Six years you shall sow your field, and six years you shall prune your vineyard, and gather in the fruit thereof; but in the seventh year shall be a sabbath of rest unto the land, a sabbath for the

Lord

: you shall neither sow your field, nor prune your vineyard" (Lev. 25:3-4). When the land is permitted to rest and recharge, populations will enjoy incredibly abundant harvests.
This will forever put an end to famine and hunger: "…I will call for the corn, and will increase it, and lay no famine upon you. And I will multiply the fruit of the tree, and the increase of the field, that you shall receive no more reproach of famine…And the desolate land shall be tilled, whereas it lay desolate in the sight of all that passed by. And they shall say, This land that was desolate is become like the garden of Eden" (Ezek. 36:29-30, 34-35).
Incredibly, even in the face of mounting problems confronting man, God reveals that the ideals of the UN and the world will eventually be realized. All nations will be provided for! At that time, everyone will receive constant aid from a government that always meets its commitments and teaches its citizens how to provide food for themselves.
No longer will a hungry child's hand remain empty!