Learn the
why

behind the headlines.

Subscribe to the Real Truth for FREE news and analysis.

Subscribe Now
Clashes between Red Shirt protestors from the United Front for Democracy Against Dictatorship and the Thai army ended with dozens dead after military forces stormed Bangkok's central district and forced the opposition to surrender. Up to 3,000 demonstrators had gathered there to demand early elections to replace the current Thai government. Since mid-March, protests have resulted in more than 82 deaths, including two foreign journalists, and approximately 1,800 injuries.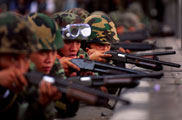 Manan Vatsyayana/AFP/Getty Images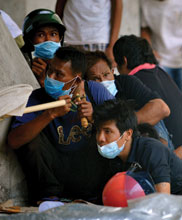 Bay Ismoyo/AFP/Getty Images
While most of the two-month demonstration was relatively peaceful and without incident, heightened tensions between protestors and military troops prompted the army's use of deadly force to clear the city's streets of the anti-government campaigners.
"Surreal scenes of warfare erupted in one of the ritziest parts of the capital, as troops armed with M-16s marched through the central business district past upscale apartment buildings to retake the area around manicured Lumpini Park, which has been under the control of protesters camped there for weeks," The Associated Press reported.
The Red Shirts, a rural movement made up of farmers and peasants that began after former Prime Minister Thaksin Shinawatra's oust by military coup, started the protests under the premise that the current government is undemocratic, and violating their right to vote.
"The divisions in Thailand are complex," The Australian reported. "The Red Shirts of the United Front for Democracy Against Dictatorship have their base in the relatively impoverished rural north-east of Thailand. They support former prime minister Thaksin Shinawatra, who was ousted from office in a coup in 2006. Originally elected in 2001 and re-elected in 2005, he is a multi-billionaire who continued to run his family conglomerate, at great profit, while in office. He became popular with the poor by distributing money to rural village chiefs and undertaking other populist economic measures."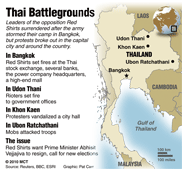 "After the coup there was a democratic election in 2008," the paper stated. "Thaksin couldn't run but his allies won again. After less than a year in office, they were confronted by mass Yellow Shirt [opposition party] demonstrations, which paralysed the airport. The courts ruled some of Thaksin's allies ineligible for politics, there were some parliamentary defections and all of a sudden Thailand had a new government, led by Abhisit Vejjajiva, of the estimably liberal Democrat Party."
Although protestors indicated a willingness to negotiate, they still refused to vacate their urban encampment. Negotiations between the two sides were further deadlocked after demonstrators demanded the United Nations be involved in the mediations, a measure Thai authorities immediately dismissed.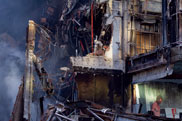 Paula Bronstein/Getty Images
In response to the military crackdown and resulting surrender, angry protestors set fire to 27 locations around the city, including the stock exchange and Southeast Asia's second-largest department store, forcing authorities to implement a nighttime curfew to restore order to large parts of the country.
Even though the situation has been resolved, CBC News reported that Thailand's Prime Minister Abhisit Vejjajiva said it will take some time to re-establish peace in the Asian nation.
"We will continue to move swiftly to restore normalcy," he said, "and we recognize that as we move ahead, there are huge challenges ahead of us, particularly the challenge of overcoming the divisions that have occurred in this country."