As the international spotlight shines on Brazil—a nation preparing for the 2016 Olympics—it faces rising rises that threaten to reverse its progress.
Learn the
why

behind the headlines.

Subscribe to the Real Truth for FREE news and analysis.

Subscribe Now
Brazil's second-largest city, Rio de Janeiro, will host the upcoming 2014 FIFA World Cup soccer tournament and 2016 Olympic Games, two of the world's most popular sporting events. As a result, the news media has focused on the nation's rising poverty and crime rates.
Violence is an everyday occurrence for law enforcement officials and the more than 11 million residents in and around the favelas, Rio's slum areas, which are overrun by heavily armed drug gangs. More than 6,000 people are killed each year, a rate comparable to a war zone.
"The international community has raised serious concerns regarding security in Brazil both prior to and immediately following its winning bid to host the summer Olympic Games in 2016. But the International Olympic Committee (IOC) remains confident that there is ample time for Brazil to tackle its massive crime problems," an article published by the Council of Hemispheric Affairs stated.
The article continued, "However, if the country hopes to host a successful World Cup in 2014, the timetable obviously must be expedited."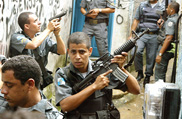 Vanderlei Almeida/AFP/Getty Images
In the background of every gunfight, police killing and drug deal gone wrong, sits the massive "Christ the Redeemer" statue on a mountain peak just outside the city.
The predominately Catholic nation yearns for peace for Rio de Janeiro. City officials desire a successful World Cup and Olympic Games. And many citizens hope for the fulfillment of the words of Christ in John 14:27: "Peace I leave with you, My peace I give unto you: not as the world gives, give I unto you. Let not your heart be troubled, neither let it be afraid."
But Rio remains plagued with violence. And as the iconic statue silently watches crime-ridden scenes play out daily, there seems to be no answer.
As the clock ticks down to the start of these two international events, will the city be able to bring order to its streets?
Snapshot of the Problem
August 21, 2009—the United States Overseas Security Advisory Council rates Rio de Janeiro's criminal threat level as "critical." The council warns, "Violent crimes such as murder, rape, kidnapping, carjacking, armed assault, and burglary are a normal part of everyday life" in the city.
October 17, 2009—14 people die, eight are injured in rival gang warfare. Gun-battles move into non-gang territory. Three police officers die.
February 27, 2010—machine-gun-wielding youth stop traffic at a Rio de Janeiro intersection. Others in their gang ride through on motorcycles, also armed. Teenagers brazenly smoke crack in the open. This is reality at one of North Rio de Janeiro's many street corners—one of which is dubbed the "Corner of Fear" (The Times).
These examples of criminal activity paint the picture of a city inundated with violence. Yet many Brazilians are optimistic that Rio can achieve a peaceful, post-Olympic future.
"We told the International Olympic Committee this is not easy and they know that," Rio Governor Sergio Cabral said. "We don't want just to be ready for special days—for that we can put 40,000 police on the streets, I told them we want to get to 2016 and have a peaceful Rio de Janeiro before, during and after the Games" (Time).
City's Approach
The current strategy for the local police is to invade the most notorious gang-controlled slums before the 2014 World Cup. Unlike past raids where the police invade, engage and retreat in urban war-like battles, the new approach is to establish a continuous visual presence in 40 of the favelas.
Rocinha is one of Rio's biggest and most troublesome slums, which crime experts say "could be a huge and bloody battle that could define the city's efforts to squeeze out gangs that have plagued the city for three decades" (The New York Times).
This new campaign is an expansion of a police "pacification program" that began in late 2008. The program has met with some setbacks and police have been embarrassed by some particularly violent confrontations.
Shortly after Rio won the Olympic bid, gang members shot down a police helicopter with heavy-caliber weapons, killing two officers. The incident occurred during a violent weekend between rival drug gangs in which 12 people were killed. The body of one young adult was found stuffed in a grocery cart on a busy street.
Despite increased police involvement, the violence is worsening. Can the nation hope to contain the problem?
Real Problem
Scenes of raw human nature, similar to those in Rio de Janeiro, have played out in many great cities of the world, both past and present.
But what most do not realize is that these troubles are not merely drug problems or gang-related—their causes run much deeper, and involve the nature of man.
While many turn to religion and long for the peace promised by the words of Jesus, their hearts are still troubled and they are still afraid. Although they look to what the supposed statue of Christ represents, they completely miss that the core of the problem in Rio lies within the book He inspired, the Bible.
The New Testament book of James reveals the true reason for Rio's violence: "From whence come wars and fightings among you? Come they not hence, even of your lusts that war in your members? You lust, and have not: you kill, and desire to have, and cannot obtain: you fight and war, yet you have not, because you ask not. You ask, and receive not, because you ask amiss, that you may consume it upon your lusts" (Jms. 4:1-3).
Rio's violence comes from lust!—a spiritual problem ingrained in the nature of man. Manmade physical solutions will not—and cannot—stop spiritual problems because they do not address the root cause.
Although the city's situation may seem hopeless, soon the living Jesus Christ will return and a world-ruling "government shall be upon His shoulder: and His name shall be called Wonderful, Counselor, The mighty God, The everlasting Father, The Prince of Peace" (Isa. 9:6).
No longer will citizens have to live in fear, forced to trust in the misguided, though often sincere, solutions of man.
"And in the days of these kings shall the God of heaven set up a kingdom, which shall never be destroyed: and the kingdom shall not be left to other people, but it shall break in pieces and consume all these kingdoms, and it shall stand forever" (Dan. 2:44).
The ushering in of God's kingdom will bring the problems facing Rio de Janeiro and other cities around the world to a screeching halt. A city that has long been a breeding ground for gang-related violence, and an epicenter of drug trade, will soon be transformed into a stable and peaceful area of the globe.
Real change will be enacted, but not by the efforts of man. God's government—and nothing else—will bring this to pass.
For more information, read Did God Create Human Nature? and How World Peace Will Come!
Suggested Reading: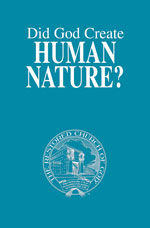 Did God Create Human Nature?
Other Related Items:
More on Related Topics: