As the international spotlight shines on Brazil—a nation preparing for the 2016 Olympics—it faces rising rises that threaten to reverse its progress.
Learn the
why

behind the headlines.

Subscribe to the Real Truth for FREE news and analysis.

Subscribe Now
When Rio de Janeiro was selected as South America's first host of the Olympic Games, Brazilians rejoiced. The nation had the seventh-fastest growing economy in the world, and winning the honor to host the games was a symbol of Brazil's rags-to-riches achievement. It was expected to bring a revolution and renewed interest in the rising nation.
That was 2009.
In 2016, as the Summer Olympics draw near, Rio de Janeiro—along with the rest of Brazil—is in crisis.
The nation's economy has sunk into its worst recession in more than 100 years. This has left little hope for the nearly 1.4 million residents of Rio—over one-fifth the city's population—living in impoverished favelas. These slum neighborhoods are known for dangerous hodgepodge infrastructure, unsanitary conditions, poor nutrition, and pollution.
For the city, increased poverty begets more gang- and drug-related violence, which has only worsened since the Olympic bid.
A cocktail of other problems threatens to tarnish the upcoming Olympic celebration—some of which may turn away both fans and athletes. Waters for the swimming and boating events were found to be rife with viruses and bacteria from human waste, causing those training in them to fall seriously ill. The Zika virus, which was declared a "global health emergency" by the World Health Organization, has infected 1.5 million in Brazil since last April and continues to spread. Also, corruption and scandal accusations have rattled the national government, hamstringing its ability to deal with Brazil's many crises.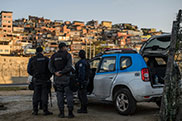 Christophe Simon/Getty Images
A silent observer watches over Rio. Overseeing every murder, scandal and infection is the massive "Christ the Redeemer" statue on a mountain peak just outside the city.
The predominately Catholic nation yearns for peace, prosperity and justice. Officials desire a successful Olympic Games. Many citizens hope and wait for the fulfillment of the words of Christ in John 14:27: "Peace I leave with you, My peace I give unto you: not as the world gives, give I unto you. Let not your heart be troubled, neither let it be afraid."
They may also long for His words in John 10:10 to become reality: "I am come that they might have life, and that they might have it more abundantly."
Sadly, peace and abundance are nowhere to be found, as news headlines make clear:
"Brazil's Sprawling Favelas Bear the Brunt of the Zika Epidemic."
"The 50 Most Violent Cities in the world are revealed, with 21 of them in Brazil…"
"As a Boom Fades, Brazilians Wonder How It All Went Wrong."
"Economic Crisis Rattles Brazil as Olympic Year Starts."
"Struggling Brazil Drags Down South America."
Amid all of this, Rio's iconic statue silently watches people suffer day and night. There seems to be no answer.
Yet should this beleaguered nation lose hope?
Snapshots
Over the last decade, Brazil has been a rising star among developing nations—a beacon of stability and a force to be reckoned with on the world stage. The nation is even the "B" in BRICS—the coalition of emerging global powers that includes Russia, India, China and South Africa.
Yet the violence, disease and economic woes threaten to erase all progress made by the South American nation.
Violence: Brazil has some of the highest violent crime rates in the world. According to the United Nation's 2013 Global Study on Homicide, 64,000 Brazilians die by homicide each year. This is 32 murders per 100,000 people—a rate higher than that of the Syrian civil war.
The reason? "Experts…blame the continued power of drug gangs, corruption among police and an ineffective court system for the continuing crime," International Business Times reported.
For residents of the favelas, violence is a daily reality.
Robert Muggah, research director of the Igarape Institute, a think-and-do tank in Rio de Janeiro that focuses on security and development issues, wrote for The Guardian: "When I get up in the morning and take my car out the driveway, I look both ways, not for other cars but because of the possibility of being car jacked. I drive down the street and I'm aware that there may be a stray bullet. It just becomes routine."
"On entering a favela there'll almost inevitably be a young man wearing a baseball hat, with a 9mm [handgun] stuck in his waistband…There's the smell of sewage interspersed occasionally with the most gorgeous smells of bread or stew."
"But there's another more ominous feeling of the codigo do silencio, the law of silence. In favelas where the drug traffickers still have control there is this sense of fear. People are reluctant to speak to you, and may not want to see an outsider."
Olympic preparations have done little to nothing to stop gangs, corruption and homicides.
Disease: Nearly 220,000 members of Brazil's armed forces are moving door-to-door to eradicate the Aedes aegypti mosquitos, which are carriers of the Zika virus. Brazil's health minister said that the nation is "badly losing" the battle against the disease.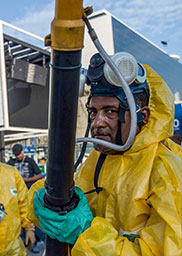 Christophe Simon/Getty Images
With almost 400,000 foreign tourists, along with thousands of athletes, officials and sponsors, expected to arrive for the Olympics in August, health officials are concerned that Zika could spread worldwide. Since 80 percent of cases have no symptoms, if the virus spreads among the mass gathering at the games, it likely will not be detected before it leaves the country.
Another concern is that, statistically, half of all travelers engage in casual sex with locals. Zika can be transmitted sexually, which means the virus can be transferred to sexual partners at home and spread from there.
Although the disease is relatively mild—usually only causing fever symptoms for about a week—health workers fear it has a possible link to increasing cases of microcephaly among newborns. Babies born with this condition suffer life-threatening brain damage. (Though the connection between Zika and microcephaly has not been proven, the potential risk is causing increasing fear among health officials.)
The threat of Zika going pandemic is reason enough for many to urge Brazil to call off the games.
CNN reported: "New York University bioethicist Art Caplan said Brazil is being irresponsible with public health. The country shouldn't be 'trying to run an Olympics and battle an epidemic at the same time.'
"The U.S. Olympic committee apparently told athletes who are concerned about their own health to skip the games if they want to, and soccer star Hope Solo has gone on record saying she won't go unless the situation changes. We're also seeing other sporting events, like the PGA's Latin American tour, postpone upcoming dates."
However, Rio is standing defiant, the media outlet continued. Despite significant risks, Brazilians are determined to let the games occur.
Economic Woes: The economy of Latin America's biggest country suffered a 4.1 percent recession in 2015—reversing nearly all the growth it experienced just five years earlier. Economists expect it to continue shrinking by 3 percent this year.
In addition to a decreasing economy, the price of goods has increased—Brazil had an inflation rate of 10.67 percent in 2015.
Reuters considered it the economy's "worst crisis in decades as investors lose confidence in the once emerging-market star, after years of erratic economic policy…"
This prompted Standard & Poor's to downgrade the economy's rating from BB+ to BB on the basis of "significant political and economic challenges."
One of those challenges involves state-owned oil company Petrobas, which has downsized its workforce and was accused of using bribery and corruption. Also, the leader of Latin America's largest engineering and construction firm, Odebrecht, is in jail for allegedly giving billions of dollars of kickbacks to politicians.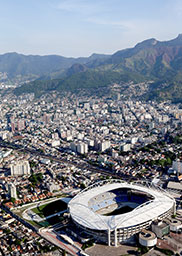 Matthew Stockman/Getty Images
Meanwhile, the prosperity of the rich class has increased, further widening the gap between wealthy and poor. International Business Times reported that "while prosperity may have increased, the income gap hasn't appeared to narrow with the [now] super-rich sharing the nation with desperately poor and unskilled youth."
Although the outlook for the nation remains dire, many see the Olympics as a potential spark for positive improvement. They hope disease will be eradicated before the games. They see tourists flooding the economy with funds, specifically to nominal, low-class jobs—taxi drivers, small shop owners, and trinket sellers. They see erased poverty and emphasis on nationalism as a means to reduce violence.
Yet the results of 2014's FIFA World Cup international soccer tournament—hosted throughout Brazil—dampens hope that the Summer Games will bring lasting change.
World Cup Aftermath
Although Brazil's World Cup injected $13.2 billion into the economy and created one million jobs, it inadvertently caused the economy to begin shrinking. The Wall Street Journal reported that "economists say [the World Cup's] impact on other sectors of the economy was decidedly negative. Some World Cup host cities declared municipal holidays on days when matches were played in local stadiums, while untold legions of workers played hooky to watch the Brazilian national team's seven games."
Since 2014, the economy has continued to drop. Promises of advancements and hopes of real change were unrealized.
Jankiel Santos, chief economist at Espirito Santo Investment Bank in Sao Paulo, told the newspaper, "At the end of the day what we wanted from hosting the Cup were improvements to infrastructure that were promised but not delivered."
Mr. Santos called the games a "wasted opportunity" for real change. The Olympics will likely be the same.
Real Problem
While many turn to religion and long for the peace, abundance and prosperity promised by the words of Jesus, their hearts are still troubled and they are still afraid. Although they may look to what most think Rio's statue represents—the Jesus Christ of the Bible—they completely miss that the core of the issue in Brazil lies within that very Book He inspired.
Isaiah 59:8 declares this about the nature of man: "The way of peace they know not; and there is no judgment in their goings…"
Most will not come to grips with the ugly reality of human nature. No nation, team or individual has ever brought true and lasting peace to the Earth.
Yet the Bible does not just point out the flaws of mankind. It also reveals the solutions.
Although Brazil's situation may seem hopeless, soon the living Jesus Christ will bring a world-ruling "government…upon His shoulder: and His name shall be called Wonderful, Counselor, The mighty God, The everlasting Father, The Prince of Peace" (Isa. 9:6).
No longer will citizens have to live in fear, having to trust in the misguided, though often sincere, solutions of man. Christ's government, also called the kingdom of God, will usher in real peace.
Daniel 2:44 says that Christ will "set up a kingdom, which shall never be destroyed: and the kingdom shall not be left to other people, but it shall break in pieces and consume all [the world's] kingdoms, and it shall stand forever."
God's kingdom will bring the evils facing Brazil and other nations around the world to a screeching halt. A nation that has long been an epicenter for drug trade, violence, poverty, disease and a host of other issues will soon be transformed into a prosperous, stable and peaceful area of the globe.
Real change will be enacted, but not by the efforts of man. God's government—and nothing else—will bring this to pass.
For more information, read How World Peace Will Come!