As people search for a solution, they ignore the very nature of the problem.
Learn the
why

behind the headlines.

Subscribe to the Real Truth for FREE news and analysis.

Subscribe Now
Roadside explosives and suicide bombings take the lives of the unsuspecting. Rocket-propelled grenades and hand grenades shatter walls and windows—tearing apart human beings. Empty houses lie in ruins. Gunshots and explosions ring out. Gutted by continuous gunfights between Islamic insurgents and Somali/Ethiopian forces, the streets of Mogadishu, Somalia's capital, are rife with lawlessness.
Since the start of 2007, some 600,000 people have fled the city's ongoing bloodshed. Many live in makeshift huts—tree branch frames covered with fraying pieces of fabric and scraps of plastic—that line the roads on the outskirts of Mogadishu. In all, 750,000 are internally displaced in the nation.
Somalia has been under siege from within since 1991, when warlords overthrew former dictator Mohamed Siad Barre. Since January 2007, U.S.-backed Ethiopian forces have been present in Mogadishu, aiding the Somali Transitional Federal Government in ousting the Islamic Courts from the city. The insurgents have pledged to continue fighting until the Ethiopian troops leave the nation.
The current transitional government, the 14th attempt to secure national rule, has been unable to halt the insurgency and bring peace to the nation.
The unending violence and destruction has had rippling effects throughout Mogadishu: 80% of schools are shut down; 6,000-plus city residents, including eight journalists, were killed in 2007; and the United Nations has put into effect "security phase five"—all UN staff have been evacuated from the city—and "phase four" for the rest of the country.
A November UN report stated the Transitional Federal Government and Ethiopian forces have only made "limited progress" in securing Mogadishu. The UN also reported incidents of both Somali and Ethiopian troops opening fire "indiscriminately," leading to "many civilian casualties."
Somalia is facing one of the worst humanitarian crises in Africa's history.
Meanwhile, government leaders, diplomats and dignitaries, both from Somalia and the international community, grasp for solutions to end the chaos—yet are fundamentally ignorant of the root cause.
Obstacles to Assistance
As the crisis continues to unfold, humanitarian workers are encountering numerous obstacles in rendering aid, such as government soldiers demanding money from aid workers before allowing them through roadblocks.
Pirates in unpatrolled waters have attacked ships carrying aid supplies (80% of the World Food Program's supplies are shipped by sea). The number of ships willing to carry the WFP's cargo has been cut in half. To combat piracy, France has promised warships to protect the humanitarian supplies for two months.
According to the UN, 1.5 million people need humanitarian assistance—up 50% since last year. Of the $304 million needed for Somali aid in 2007, only 53.2% was collected (as of the end of September). For 2008, the UN is appealing for $400 million in aid.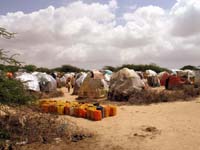 MCT
Somalia is a maze of competing interests throughout all levels of society as high-ranking government officials struggle for power and dominance. Some welcome outside aid; others do not. Warlords, who have learned to make a living from anarchy, oppose any peace effort.
Cause and Effect
The physical effects—violence, piracy, anarchy, power struggles, strife, extortion, etc.—experienced daily in Somalia, as well as other volatile regions in the world, result from spiritual causes.
The apostle James was inspired to write, "From whence come wars and fightings among you? Come they not hence, even of your lusts that war in your members? You lust, and have not: you kill, and desire to have, and cannot obtain: you fight and war, yet you have not, because you ask not. You ask, and receive not, because you ask amiss, that you may consume it upon your lusts" (Jms. 4:1-3).
Every conflict, every battle or disagreement, boils down to this—lust! It is why governments and nations are overthrown, suffering upheavals and violent coups. It is why they struggle under the burden of bureaucracies, stalemates, opposing interests and corruption.
Diplomats, heads of state, military leaders, and think tanks grapple with devising workable solutions—but at best, these are only temporary.
Even religious leaders are at a loss, ignorant that the root cause of the problem is spiritual in nature. Only by understanding this—and thereby applying the right solution—can humanity's mounting ills, the physical symptoms, be effectively addressed.