After centuries of colony status, has this nation's independence met expectations?
Learn the
why

behind the headlines.

Subscribe to the Real Truth for FREE news and analysis.

Subscribe Now
Manila, Philippines – Arriving at Ninoy Aquino International Airport in the capital of the Philippines, a visitor from North America cannot help but notice its clean, but dated, interior. Its lobbies, concourses and service areas appear to have not been updated since construction in 1981, and a new terminal that was started in 1997 remains incomplete, much to the consternation of taxpayers. Although there are air conditioning vents in the ceiling, they appear not to be functioning. On a late night in May the temperature at the baggage claim felt to be around 27ºC (80ºF), accompanied by clinging humidity.
The 20-minute taxi ride to Makati City, the burgeoning financial district of Metro Manila, takes passengers past stores and restaurants with simple hand-painted signs, many housed in raw, unadorned concrete walls and corrugated metal.
Arriving in Makati, a stark disparity emerges. High-rise luxury condominiums and five-star hotels tower above trendy eateries. Shopping complexes rival those of American or European cities, with exclusive brand names such as Prada and Burberry lining the storefronts. However, even in these upscale surroundings, when entering a hotel lobby all visitors pass through a metal detector under the eye of several armed guards.
This short journey encapsulates many aspects of the Philippines today: the wide gap between upper and lower classes—a chronic frustration with government inefficiency—concerns with terrorism—a blend of cultural influences—and a level of progress that, while not on par with the poorest of nations, still lags behind a number of Asian countries.
So what is the current state of the Philippines? And will the near future be an echo of the past—or are new and better chapters ahead?
A Distinctive Nation
A roughly triangular archipelago of more than 7,000 islands, most uninhabited, the Republic of the Philippines has a population of about 90 million that is concentrated in urban areas and growing fast, with the highest birthrate in Asia. The lush beauty of its spectacular mountains, lakes and beaches bordering crystal blue seas draws millions of tourists each year. It is also renowned for its biodiversity, with an incredible range of plants and animals on land and at sea.
The nation is a mixture of Asian, Latin, European and American elements. Though most Filipinos come from Malay heritage (as do many living in Southeast Asia), others have mixed descent (referred to as "Filipino Mestizo"), including Chinese, English and Spanish ancestors.
It is the most Westernized country in the Far East, with English as an official language (alongside the native tongue, Pilipino) and a steady stream of American and European popular culture influences, especially among the youth. Cellphone use is prevalent, and the Philippines has been named the "text messaging capital of the world." Its population is more than 80% Roman Catholic, in addition to other Catholic offshoots and Protestant groups.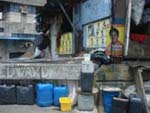 RCG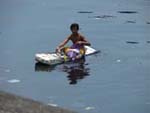 RCG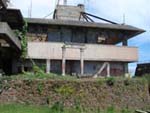 RCG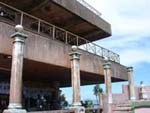 RCG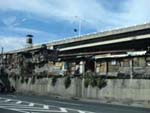 RCG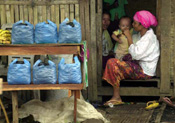 MCT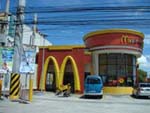 RCG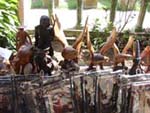 RCG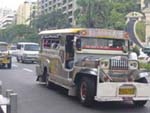 RCG
More than 300 years of colonization by the Spanish, beginning in 1521, has left a lasting mark. The nation is named for Spain's King Philip II, and many city and town names are Spanish, along with common surnames. This period also saw extensive Catholic missionary activity, hence the still-strong influence of Rome. For example, many shopping malls incorporate cathedrals at which shoppers break for Mass. In 1995, Pope John Paul II spoke before a crowd estimated at four to five million, the largest papal audience in history.
The next colonizing power to arrive in the Philippines was the United States. The American influence is seen in the school system, as well as the President/Senate/House of Representatives political structure. There is a tendency to emulate and admire the United States. Seeing its prosperity and comparative stability, some citizens recall America's $20 million purchase of the islands from Spain in the 1898 Treaty of Paris, and wistfully yearn to be taken under the superpower's wing again.
The outstanding hospitality for which the Philippine people are known has earned the country the nickname "the smile of Asia." I and a fellow Real Truth writer experienced this in the form of a helping hand and easy conversation from complete strangers on an airplane, and in our exchanges with staff in most business establishments. Normal customer service here has a level of attentiveness, decorum and respect that is at first almost startling to a Westerner.
The Diaspora Economy
Maintaining strong trade connections with Japan and the U.S., the Philippines has considerable natural resources and exports, including electronic equipment, clothing and agricultural products, such as pineapples and coconuts.
However, much of the money in the Philippines comes from elsewhere, either in the form of foreign investment or wages sent from the "Diaspora"—millions of expatriate workers spread around the globe, with large groups in the Middle East, United States, Canada, Hong Kong and elsewhere.
"If the gross national product is edging up, as reported, it's largely on the strength of more than US$14 billion in remittances poured into the country over the past year—the earnings of about 8 million Filipinos, one-tenth of the population, who now work overseas" (Asia Times).
Those who have relatives who can send money home enjoy a standard of living that is out of reach to most, especially those far from urban centers.
Purchasing power for Western visitors or transplants is impressive; for example, small but luxurious condominiums can be rented for as little as $300 USD per month. But the peso's value is rising, making the currency coming in from the Diaspora less valuable.
Sharp divisions between classes have long characterized the Philippines. Five or ten minutes from the most affluent neighborhoods in Manila, such as Bel Air Village and Forbes Park, sit the kind of slums that are found throughout the Third World. Families live on sidewalks and panhandle, bathing their children in the open using a grimy bucket, hanging wet clothes from the rails on a freeway overpass. In rural areas surrounding the capital, new subdivisions with immaculate Spanish-style houses are within shouting distance of clustered plywood shanties.
Highways in Manila's suburbs are also lined with these ramshackle dwellings, with no running water or electricity.
Perhaps half of all Filipinos live in poverty. Probably the most heartbreaking example I witnessed was that of three boys, perhaps 7 to 12 years old, swimming in the debris-ridden, putrid-smelling Pasig River, retrieving plastic bottles to redeem for money, while calling out to passersby, "Give me money! Coins! Coins!"
Government—A Regime Rollercoaster
Of course, many economic woes are linked to government decisions in recent decades. The nation has seen more than its share of crises since achieving full independence on July 4, 1946. Uprisings, coups d'état, martial law, contested elections, a decades-long Communist opposition movement, and other upheavals have rocked the islands time and again.
The most infamous administration was that of the late Ferdinand Marcos. During his 20-year rule, foreign debt expanded dramatically, and by his ouster in 1986 the economy had sunk from relative stability into shambles. He and his associates were accused of siphoning billions of dollars into personal bank accounts. Nearly $2 billion has been recovered, but much of the rest is still the object of lawsuits. Add to this Marcos-mandated projects such as the Bataan nuclear power plant—completed in 1984 at a cost of $2.3 billion USD, but never activated due to its location on a fault line and its vicinity near a volcano—and you have a figure who embodies corruption and incompetence.
Today, an estate and grounds built by the dictator on a high ridge in the Tagaytay region is known as the "People's Park in the Sky," with incredible panoramic views. But far from being a well-maintained museum, it is an abandoned mansion in a state of disrepair, the grounds occupied only by a few craft booths and food vendors. A cellphone tower and a Catholic shrine rest atop the crumbling concrete home. It is an unintentional monument—a symbol of the country's contempt for the late president, who spent his final years in exile.
The Philippines' political system is a complicated tangle of hordes of candidates organized into a raft of parties and party lines. Candidates have largely been elected on the basis of personality rather than any kind of platform. Though some believe this is changing, in the weeks preceding the May 2007 election, colorful posters obscured walls, fluttered in the wind on power lines, and littered the ground both in cities and rural barangays (villages). Most of these featured only a candidate's face and name. Some newspaper ads for a candidate did not even contain his picture, but rather a photo of fetchingly posed female models.
This year's election was controversial, with widespread allegations of fraud, vote-buying, vote-shaving, vote-padding and other mischief. Many candidates employ their own private militias, and there were reportedly well over 100 election-related killings in the run-up to the contest.
The current president, Mrs. Gloria Macapagal-Arroyo, has weathered a number of failed coups—the most recent occurring in 2004—and two impeachment attempts. The Senate continues to be held by the opposition party, threatening American-style legislative gridlock. Among opponents of Mrs. Arroyo voted into office this year are two former leaders of failed coups against a former president, Corazon Aquino. This will likely not bode well for her remaining years in office.
Challenges Abound
Any leader of this nation is faced with serious problems. Despite the outgoing friendliness and upbeat demeanor of the Philippine people, they battle real and unrelenting obstacles to personal happiness and collective success.
Politically-motivated violence and murder persists in news headlines. According to The Economist, "Those who criticize or ask awkward questions about powerful people are quite likely to be killed," with victims including "outspoken priests, activists, journalists and other dissidents."
There is a dark side of the Diaspora windfall. Fathers or mothers can be away for years at a time, leaving a single parent situation in their wake, devastating families.
Additionally, illegal sex trade flourishes in the islands. A CBC program estimated that 375,000 women and girls are involved in prostitution, some only 9 or 10 years old. An increasing number of these are HIV-positive.
During our trip, on a Saturday evening in the lobby of a fine hotel in Makati City, guests included a steady stream of middle-aged Western visitors heading to and from rooms with companions-for-hire. While their appearance is not as blatantly provocative as women who work red-light districts in the Netherlands or the United States, a number of them appeared to be teenagers. Tens of thousands of Filipinas are also lured—or forced—into prostitution in other nations of Asia, most notably Japan.
On another front, certain adherents of a religion that arrived in the Philippines before Catholicism—Islam—are involved in a violent conflict in the southern region of Mindanao. As this article was being written, the U.S. government awarded a $10 million USD bounty to four men who assisted the Philippine army in tracking down and killing two leaders of the militant faction Abu Sayyaf.
Finally, the environment itself presents constant danger from typhoons and volcanoes, endangering not only the property and lives of residents, but also the agricultural business that provides the largest percentage of the nation's jobs.
A People Waiting for a New Era
During the colonial period, Filipinos were often treated as an inferior people by occupying powers. But they have maintained a strong national identity and nationalism nonetheless. The most prominent advocate of Philippine nationalism, José Rizal (1861-1896), is still called "our hero and martyr" by Filipinos. In his last poem, written shortly before his execution by the Spaniards, he called these islands "my adored Land, region of the sun caressed, Pearl of the Orient Sea." This remarkable man longed for the day that his compatriots would be free and prosperous.
What will bring his dream to pass?
The progress of any group, and certainly any nation, turns on the decisions of its leaders. A successful government will encourage prosperity for its people. The converse is also true.
The Western world seems to promote democratic leadership as a near-panacea. But as Winston Churchill once stated, "It has been said that democracy is the worst form of government except all the others that have been tried." While this form of government allows many freedoms and has many advantages, it is inherently flawed—as flawed as the human beings in whose hands the power rests.
According to Bible prophecy, the years ahead will see dramatic shifts of power among nations and continents. The Philippines may be part of a future Asian power bloc that will take shape. However, even this will not lead to ultimate success.
But those who call the Pearl of the Orient Sea home will one day enjoy a government that will help its people to achieve all that they long for—financial stability and prosperity, peace, opportunities for all to succeed. It will be a government that truly has the best interest of its citizens in mind.
Yet it will not arrive in the way most expect!
To learn more about what is in store for the Philippines—and all other nations—read Tomorrow's Wonderful World – An Inside View!