---
Notice
You have reached the portion of our website explaining the apostasy of the Worldwide Church of God (WCG). Start here if you do NOT have a WCG background.
---
Founder and Pastor General of The Restored Church of God, Editor-in-Chief of The Real Truth magazine, and voice of The World to Come program, David C. Pack has reached many millions around the globe with the most powerful truths of the Bible—unknown to almost all. He has authored 80 books and booklets, personally established over 50 congregations, and appeared as a guest on The History Channel. Mr. Pack attended Ambassador College in Pasadena, California, entered the Worldwide Church of God ministry in 1971, and was personally trained by its founder, Herbert W. Armstrong.
Learn more
---
Special Announcement #9
Friday, June 21, 2013
God's Work Advances—Again!
By David C. Pack
NOTICE: This is the NINTH in a series of special announcements. They collectively unveil the massive, ongoing expansion that God's Church, Work and Headquarters are experiencing. There is a reason for this expansion! The reader should contrast these announcements to the increasing bad news and bad events in UCG, LCG, PCG, COGwa and ALL splinters and slivers of the Worldwide Church of God. You must see what they are NOT announcing, and why they never will—and what GOD is bringing upon them. The place to start reading is either the fifth announcement—"God's People Back Together—SOON!"—or the first one to catch up on all you have missed. If you begin with the fifth announcement, then read those before and after it. They are all important. An enormous and detailed prophecy is now being carried out by God. He is preparing events to soon bring His people back together—all of them. It is not my task to convince you the prophecy is true. God will do that! My job is to systematically lay out the specifics of what will happen and WHY—good and bad, pleasant and unpleasant. YOU WILL NOT WANT TO MISS A SINGLE ANNOUNCEMENT! If you do, CATCH UP. Also, you will miss the full impact if you skip sections of these announcements.
This Friday announcement will be different from all the ones before it and the others that will follow it. Next week, the pattern of announcements will grow even more explicit—and more serious—as to the fulfillment of Haggai's prophecy. But you will also find this announcement more than interesting.
This morning and afternoon, The Restored Church of God held a very special ribbon cutting ceremony for our new Hall of Administration building. The ceremony took place under a beautiful summer sun, and those in attendance included numerous city officials, members of the community, representatives from the Chamber of Commerce, contractors, vendors, teenage children of members from around the world who are in the United States attending our youth camp and members from local media. Our dedicated staff, now numbering close to 100, also attended the event and helped provide the support for all the activities. The former mayor of Wadsworth (2004-2008), Congressman Jim Renacci, now the U.S. Congressional Representative of Ohio's 16th district, joined me in addressing the audience who were seated under a magnificent white tent to shield them from the sun. As a private citizen serving on the Wadsworth Board of Zoning Appeals, Congressman Renacci created the zoning environment that paved the way for the development of our campus. Also on the program and representing the current mayor Robin Laubaugh was the Wadsworth City Council President Tom Palecek. Mayor Laubaugh, who has been extremely helpful in our efforts to develop the campus, was unable to attend due to the birth of a new grandchild in another state.
In my brief address I shared some history of the Church, along with explaining the grand vision we have for our campus. I explained that, in late 2007, a property I had driven past for years in Wadsworth, I suddenly saw as perfect for all of our rapidly expanding needs, meaning five buildings it would have to contain. I envisioned a shimmering jewel befitting the Great God that would be visible—as a biblical "city set on a hill"—to literally hundreds of thousands every day on highways passing either side of what would become our "lower campus." At the reception that followed, there was an air of genuine excitement that the city would benefit greatly from what we are doing. Soon hundreds of employees will join the already 100 who are here. Included below are a few photos from the event. The first photograph shows the actual ribbon cutting, with Chris Easton, the Service Director of Wadsworth's Planning Commission, Congressman Jim Renacci, Mr. Tom Palecek and David C. Pack (from left to right):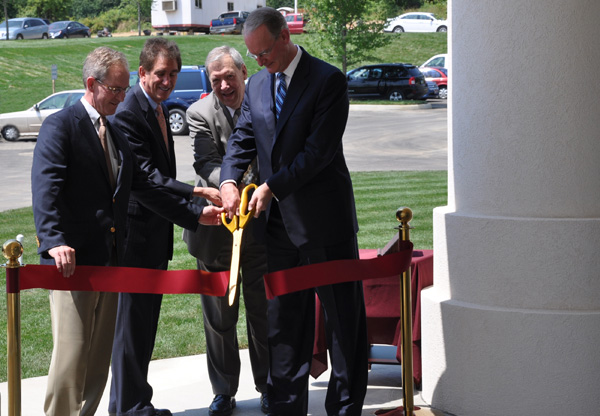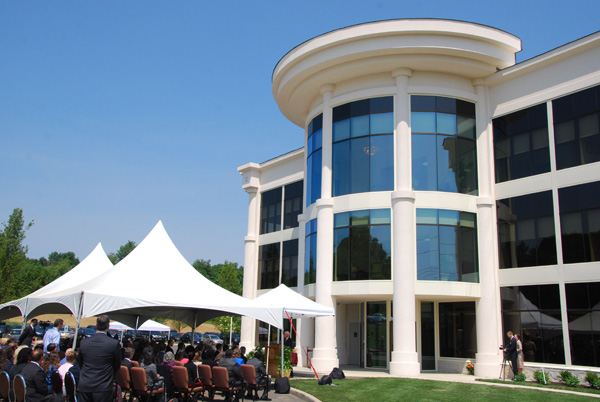 The first of five campus structures, the Hall of Administration is an elegant 40,000-square-foot building that houses the main administrative offices and operations of The Restored Church of God. The structure represents an achievement in design, construction and technology, and is unique in the region. Its four levels contain a mix of elegance, modernity and technological innovation. Four beautiful chandeliers hang in the building's signature north and south towers on the second and third floors. Throughout the structure, 605 very long window panes allow natural light to brighten interior offices and meeting spaces. Natural light spectrum fluorescent fixtures provide a vibrant work environment for the interior offices as well. Befitting the quality of the God we serve, the nearly 300,000 square feet of wall space is lined with over four miles of cherry and oak wood trim. To allow for maximum connectivity within and between multiple departments, 10 miles of Category 6 data cable and three miles of fiber optic cable were also laid throughout the building. Our meeting hall has been finished, with new chandeliers installed last night.
Many elements of the campus are now coming together, with more trees, gardens, and sod being installed each week. Exterior work outside the Hall of Administration on the eastern side is also taking shape. The developing landscape has approximately 4.5 miles of pipeline buried beneath the surface to irrigate the rolling grounds. God has blessed us with water from our own spring that will enable us to maintain the green turf and sustain many towering trees, lush plants and flowers through the hot summer months without the enormous cost of water this many acres and plants would require. This has turned into a tremendous blessing considering the possible water restrictions that may be imposed in the future. We have developed a saying that, "The Garden of Eden is open for business again." We are pleased to announce that there will be a public area where city residents may enjoy spectacular flower gardens and specially decorated grounds.
Development of the overall campus continues as I write. Magnificent grounds are taking shape as the courtyard is constructed and beautiful full grown trees, some over 35 feet tall, are being installed. Colorful gardens and turf grass are replacing brown soil. The entire area is beginning to burst with color! God is surely pleased with His Headquarters on Earth. I cannot help but wish Mr. Armstrong could see this new Hall of Administration arrive to completion just as a private developer in Pasadena is demolishing—right at this time—the Hall of Administration (and Fine Arts and Science Hall buildings) that headquartered the Worldwide Church of God. I was privileged to attend that ribbon cutting in early 1969, and now this one.
Probably in the first week of July we will begin construction of our second building—the Mail Processing Center, to be completed before the end of the year. Our tremendous media growth is causing literature distribution to explode. This requires much more space, equipment and manpower. This new building (12,000 sq. ft.) will house the Church's mailing and in-house print operations, as well as the Landscaping and Construction Departments. The structure will be located south of Ambassador Drive, directly opposite the Hall of Administration.
A third building in development is the Media Center. This two-level state-of-the-art facility will allow for a large enough production team necessary to keep pace with our expanding worldwide media presence. This over 4,000 sq. ft. building will include a much expanded main recording studio—double the size of our current one—along with two other studios. It will also feature a cutting edge video editing suite, a photography studio, a conference space, video machine room and expanded workspace for our graphic designers and video editors, both current and future. The future will make clear in what ways we use television and video, but the Media Center puts us in a position to quickly shift as the industry does.
Then there is the Student Center. Although timing of construction may change as the need arises, the plan is to begin construction in late 2013. This facility will contain Ambassador Center, which will provide the training for those who will serve in leadership positions in The Restored Church of God. Located on the north side of the main courtyard, the Student Center, along with the Hall of Administration, will create a "framework" of sorts for the magnificent future Imperial Auditorium—the centerpiece of the entire campus. The soon-to-be-destroyed three-building "courtyard" in Pasadena will soon be back. All of this will be wrapped in trees, spectacular gardens of every design, as well as a lake, a stream with three waterfalls—the pumps were turned on 30 minutes ago with 20 gallons per second going over the initial six-foot waterfall!—and other water features, all interwoven with uplit walkways with sitting areas. In short, these final two absolutely beautiful buildings will further capture the elegance of the former Pasadena, California campus of the Worldwide Church of God—so much of which is now sadly being either dismantled or sold off to separate private interests.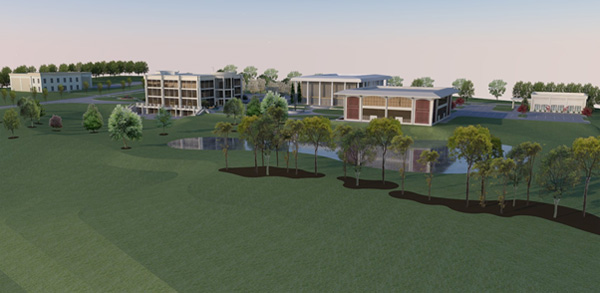 (From left to right: Mail Processing Center, Hall of Administration, Auditorium, Student Center and Media Center)
I am also pleased to introduce our coming agriculture program, which will be one of the most important food production programs anywhere on Earth. Many brethren remember the extensive and vibrant Agriculture Education, Research, Production, outreach and extension programs that were a division of Ambassador College and took place on two of its campuses (Big Sandy, Texas and Bricketwood, England). These cutting-edge biblically based programs were started in the WCG under Mr. Dale Schurter. This program has been reinstituted as the Agriculture Education and Research Institute (AEARI) of Ambassador Center. It will soon be a model for all nations, demonstrating the crucial basics about quality food production that has been lost by great numbers today. We hope—and expect—to very soon announce the purchase of some nearby farmland.
I asked Mr. Schurter to include a brief description of the program's mission, motto and objective, which will remain the same as in the past. Here is his summary:
"To restore true values in agriculture, health and man's awesome potential, according to the laws and principles in God's Word. To observe and obey all of God's commandments and statutes as they relate to these three areas. To demonstrate and teach that His Way works and is always the best way!
"Restoring and sharing

true values

in these disciplines as a way of life that promotes and restores life.
"Our objective is to demonstrate and teach that God's Way works—for the soil, plants, animals, every individual, family, group or nation.
"The self-help programs we develop and share are designed to teach those in need 'how to fish' in helping meet their needs, as well as giving them a fish or two for 'seed.' Experience shows this approach has synergism in providing motivation to be better people individually, and to share what they learn with others.
"Our procedure is to identify genuine needs, their cause, and establish appropriate tasks and programs designed to correct the causes and meet the needs, thus honoring our Creator through promoting and sharing the way of the kingdom of God by demonstration and education—offering others the way and opportunity to do the same, both physically and spiritually.
"The vision for the AEARI began in the mid-1960s. Here is an excerpt from Ambassador College's student newspaper The Portfolio recorded in 1977: 'When Dale Schurter graduated from Big Sandy in 1965, Herbert W. Armstrong asked him to teach a course in agriculture and submit a proposal for an ag curriculum. In the spring of 1966 Mr. Schurter headed up the [educational, research, production and extension] program…and continued as Ag Department head until 1975…'
"Mr. Armstrong's vision was for Ambassador College to pioneer the use of biblical agricultural principles. This would be coupled with natural cycles, scientific and practical research, along with common sense, to find the most effective and sustainable ways to raise healthy animals and produce quality feed crops and food (meat, milk, eggs, cheese, vegetables, fruits and honey). The ultimate purpose was to bring happy, healthy and abundant living to those who implemented these practices.
"My colleagues and I also organized outreach programs, including informational workshops and seminars designed to educate members of God's Church, as well as the general public, about biblical agriculture techniques. The program's mission also included helping those who wanted to implement these practices in their gardens and on their farms.
"While visiting world leaders, Mr. Armstrong often invited them to Big Sandy to tour the farm and ranch. I would be their escort. This led to many opportunities for me to travel abroad on behalf of Mr. Armstrong and demonstrate what various dignitaries had seen accomplished on campus. From 1978 to 1982, I visited 23 countries around the world to teach biblical agriculture. To date, I have taught and demonstrated these principles in over 40 nations. My book Mounting Worldwide Crisis in Agriculture chronicles a number of these assignments, and gives much more detail about God's Way of agriculture.
"We expect this new program to begin in earnest very soon! 'Open doors' have already appeared in regard to the agriculture program that will allow God's Work to reach even more nations and territories."
What you have read in this announcement, and probably more, will appear as soon as tomorrow in the Akron Beacon Journal newspaper. When a feature article was done by this paper about our campus by the same writer 15 months ago, just the announcement of what we were then only planning was picked up by newspapers across the United States and many other parts of the world. It will be more than interesting to see the coverage this next article will generate.
Finally, brethren, God is showing His blessings as our income continues to SOAR, helping to expand preaching the gospel of the kingdom of God to a world in desperate need of this good news. Surely just the elements of this announcement demonstrate where God is at work to those who have ears to hear and eyes to see. After a strong year of financial growth in 2012, income for God's Work has continued to increase. With June not yet over, the first half of 2013 is already 28.9% over the first half of 2012. The 2013 second quarter performance is conservatively now forecast to exceed the year's first quarter by 22%! Announcements that this Church will make beginning in the fall will BOGGLE YOUR MIND!
Keep reading every Friday announcement! There will not be many more. I repeat: Next week, they will grow more serious.
ATTENTION MINISTERS
A statement to all MINISTERS: God WILL reunite His people, and soon. Ministers for decades have been "scattering" them—and working "against" Christ (Matt. 12:30). Read what follows Matthew 12:30. Now comes a powerful word of caution to those men who at all fear God and want to remain in His ministry. Those who are known to have tried to thwart the active work of God's Spirit to reunite His people need to know they have chosen to END THEIR MINISTRY! The government of God's Church will make diligent inquiry with brethren now under your charge.
Most of you grew liberal in the 1970s—this was "strike one" in God's sight. But you were forgiven by a loving and merciful God and given another chance. However, mostly the same men grew far more liberal and heretical in the second "go-around" through the 90s, and all the way to the present—this was a very great "strike two" in God's sight. But His plan is to forgive you AGAIN, upon repentance. If you fight His Purpose NOW—read "God's People Back Together—SOON!", and other recent announcements—the result will be "strike THREE," and you will be OUT of the ministry by your own choosing. God's duly appointed government will REMOVE you from office. You are STRONGLY counseled to at least remain NEUTRAL in the face of your headquarters asking or even demanding you to resist what "RCG is teaching"—when God's Spirit in you should be making clear that what we are announcing is GOD'S teaching. Tell your flock you are "waiting to see," and if circumstances so require, tell your headquarters that you are going to follow God not them when push comes to shove. Tell them you are "sitting this one out." Do not trust that your current leaders will be able to save your ministry. They will NOT! Only you can do this.
Now aware of God's awesome purpose, you should in fact desire to "get out front" of what He is doing in order to help the maximum number of people. Other ministers and deacons already have. In any event, if you are not strong enough to do this, do not permit yourself to be coerced or even threatened into a position where you are soon sorry—DESPERATELY sorry!—for your actions, much like Esau found himself when he "was rejected: for he found no place of repentance, though he sought it carefully with tears" (Heb. 12:16-17). Esau could not turn back the hands of time on what he had done. Some mistakes "go too far." You are warned not to repeat Esau's mistake! Time in this age is almost gone. You stand at the crossroads of history, prophecy and DESTINY. Humble yourself in the eyes of God and He will exalt you in the future beyond what you can now imagine. You could soon be serving more of God's people—meaning larger congregations.
DO NOT BLOW A PRECIOUS CALLING!
---