---
Notice
You have reached the portion of our website explaining the apostasy of the Worldwide Church of God (WCG). Start here if you do NOT have a WCG background.
---
Founder and Pastor General of The Restored Church of God, Editor-in-Chief of The Real Truth magazine, and voice of The World to Come program, David C. Pack has reached many millions around the globe with the most powerful truths of the Bible—unknown to almost all. He has authored 80 books and booklets, personally established over 50 congregations, and appeared as a guest on The History Channel. Mr. Pack attended Ambassador College in Pasadena, California, entered the Worldwide Church of God ministry in 1971, and was personally trained by its founder, Herbert W. Armstrong.
Learn more
---
Crucial Questions—Important Answers!
By David C. Pack
NOTICE: This is the in a series of special announcements. They collectively unveil the massive, ongoing expansion that God's Church, Work and Headquarters are experiencing. There is a reason for this expansion! The reader should contrast these announcements to the increasing bad news and bad events in UCG, LCG, PCG, COGwa and ALL splinters and slivers of the Worldwide Church of God. You must see what they are NOT announcing, and why they never will—and what GOD is bringing upon them. The place to start reading is either the fifth announcement—"God's People Back Together—SOON!"—or the first one to catch up on all you have missed. If you begin with the fifth announcement, then read those before and after it. They are all important. An enormous and detailed prophecy is now being carried out by God. He is preparing events to soon bring His people back together—all of them. It is not my task to convince you the prophecy is true. God will do that! My job is to systematically lay out the specifics of what will happen and WHY—good and bad, pleasant and unpleasant. YOU WILL NOT WANT TO MISS A SINGLE ANNOUNCEMENT! If you do, CATCH UP. Also, you will miss the full impact if you skip sections of these announcements.
This announcement will be short. The next two will be longer. This one covers a few specifics to keep in mind. A number of questions will be answered—basic ones that most are not yet asking but who soon will be.
First, last Sabbath we began our 10th annual Ministerial Conference from July 12-20—the first one on our new Headquarters Campus. It was completed this afternoon, with most attendees scheduled to return home on Sunday. By every account, it was a spectacular experience, and was made more inspiring in that it was held in our absolutely beautiful new assembly hall in our new Hall of Administration building. Field ministers and Headquarters managers had the opportunity to hear six days of lectures on a range of topics, with the imminent return of all God's people an overarching theme woven into many presentations. The Headquarters ministry and department managers gave Conference attendees an inside view of the awesome Work that God is doing in His Church, and showcased the many cutting-edge tools and technology that allow the ministry to efficiently and effectively serve the flock of God.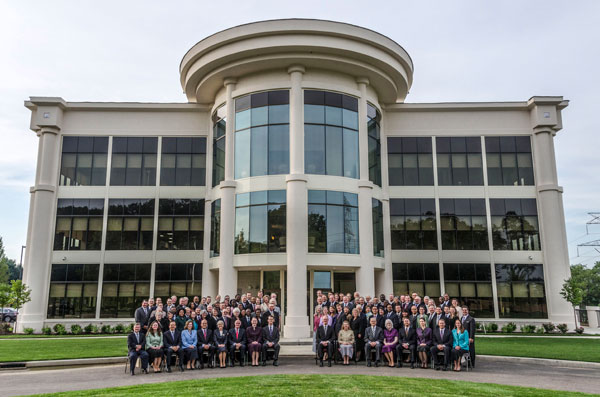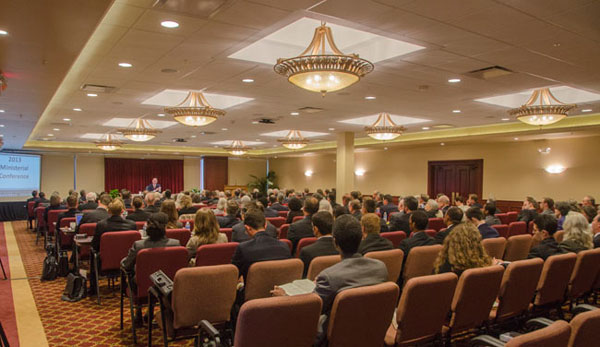 We cannot help but think of the large splinters that are so far—far!—FAR!—behind God's Church in so many of these regards (and many others). Many ministers would care about this if they knew, but they just do not know that they are. "Blissful" ignorance will soon give way to jubilant exhilaration at what lies ahead for ministers who have been sitting for years in almost desperately boring conferences that primarily served only to waste time. If you think this an overstatement, WAIT AND SEE! We are left to contemplate how many more ministers and elders will soon be meeting with us.
Specifics
Previous announcements explained that the group in Haggai described as "this people" by God, who now reside in separate church "houses," suddenly come to understand the reason behind their decades of failed efforts. "ALL" of God's people are foretold (twice—Hag. 1:14; 2:4) to return from their houses to work again in God's House. A full reunification is foretold! God states that everyone "CAME and did work IN the House of the Lord." This of course means they were SOMEWHERE ELSE—they were OUTSIDE God's House—and returned to it to be put back to work INSIDE ("in") it. Also, having been occupied elsewhere, they had NOT been doing GOD's Work.
There are certain immediate implications to Haggai 1:14-15: "The Lord stirred up…the spirit of all the remnant of the people; and they came and did work in the house of the Lord of hosts, their God, in the four and twentieth day of the sixth month…" These "nuts and bolts" include practical realities that will come to be on your mind.
First Sabbath Together
Obviously, when the size of the remnant joining us becomes clearer, as well as at least generally where most of these brethren live—countries and cities—more detail can follow…and very quickly. This will include seeing how many ministers are faithful and also where they live—countries and cities.
The "Church of God landscape" will forever change. It will be the first time in decades that all of God's people around the world will be meeting together in the same locations for services. Words cannot describe the excitement and happiness that will be everywhere soon after this reunification. In many areas, much of or possibly even entire congregations might "roll over" into The Restored Church of God. Brethren will have had time to prepare for this and to "consider their ways" before God. Those who come will have been led to return to the Body of Christ.
Realize that a host of logistical details must be worked out for this to occur. God has been planning this event for thousands of years—at least 3,000—and His Church has been preparing for it for almost a year. Headquarters and our ministers will be ready to receive potentially a great many phone calls from splinter ministers and members. Mail will also explode, but we are ready for it.
Of course, human beings are free moral agents. Obviously, some brethren and ministers will choose not to return—with this number being few, many or anywhere in between. In some areas there will be splits in the congregation, with some ready to obey God and others not. Emotions will potentially run high, possibly on both sides. We will work out how and where those determined to return will meet with Restored Church of God congregations and brethren. No one will be overlooked throughout this process. The Great Shepherd—Jesus Christ—will make sure of this!
As they develop, details that can be announced will be found here and in another specially designated section of our website.
The Feast of Tabernacles
Next, the Feast of Tabernacles: This will also be among the most special and inspiring times in Church history. It will be a Feast of unity and harmony among all of God's people. Everyone will keep this joyous occasion as members of The Restored Church of God in scores of sites across the world. At this time, we have 21 sites, but in the future we anticipate adding many more. In some areas, former splinter brethren will attend our current sites. In other locations, we will have to quickly add new ones. In still other areas, splinter sites will simply become Restored sites. The total number of Feast sites, and where they are, will depend entirely on how many brethren answer the "stirring" of Jesus Christ to return to His Church, and in what areas they live.
Tithes and Offerings
Finally, all must know where to send tithes and offerings. Exact details will be worked out when the time comes, but here are some overall points. For those living in the United States or Canada, an online banking bill pay option is available. Upon reunification, brethren may also contact our Headquarters for wire transfer information. For international brethren, The Restored Church of God has some regional offices around the world. These offices can be used as a hub to receive tithes and offerings—Canada, S. Africa, Nigeria and the United States. At least four other countries are in the process of seeing corporate entities come into existence. Again, additional details regarding electronic wire details and banking information for our regional offices will be made available.
Many of our donors, co-workers and members use various online options (for instance, PayPal), which can be made available in the future to others. It is also common for members to deposit funds directly into the Church's bank accounts.
Three Levels of Preparation
The preparation for coming together is three-fold, with two occurring simultaneously and a third to come soon after.
First, Christ has told us within the prophecy that He is working out a host of details in advance of reunification—things that human beings cannot possibly do no matter how much or how hard they would try. There are many things that Christ knows that we simply do not know, at least yet. These include the advance "vetting" of faithful ministers, splinter office personnel and brethren. Without Christ's help this could not happen, and we know that we could not begin to do it properly with so many people, never mind at high speed.
Second, 96 current staff members (soon to be 102) at our Headquarters, working alongside our worldwide ministry, are readying in every way possible that human beings can to prepare for the remnant to join us. Christ's continuous help is also powerfully evident in this regard. Realize that we will have our part to do in learning about those who come with us to try to eliminate as many "tares" (Matt. 13:24-30) and "flatterers" (Dan. 11:32-34) as possible. Think of these as people who never belonged in the Worldwide Church of God, do not belong today even in the splinters, and certainly do not belong in God's Church going forward. While some will choose not to come—generally the "beautiful people" who see loss of position looming—certain others (possibly many) will "follow the crowd" due to the normal human "bandwagon effect." (Some of these will get in, so say the verses above.)
Third, many ministers and staff today in the splinters who make the right decision in the months to come will immediately be of enormous importance to the detailed FULL REORGANIZATION process that will follow in the wake of reunion until the whole "army of God" is marching together doing the Work in unity and rhythm. Yet again, we can anticipate Christ helping in uncounted ways during this process. In fact, a series of verses in the latter part of Zechariah 6 describe His coming greater role in His Church to complete what Mr. Armstrong called "the greatest Work" ever.
Recall at the announcement's outset I wrote that most are not yet asking the basic questions described above. But these same people soon will be! So will YOU.
Finally, do NOT miss the next two Friday announcements! I will cover many other scriptures related to the Haggai prophecy that I have only broadly referenced up to now (most not at all). They clarify some central parts of the prophecy that have not yet even been touched upon. They include serious—and shocking!—climactic events within God's plan to successfully reinstate thousands to His Church. God must GET THE ATTENTION of people who are largely now not paying attention—brethren who think they have no reason to pay attention. Surely by now, if you have been reading regularly, you realize that things miraculous are scheduled to occur. But what they are remain completely unexpected. There is SOBERING news inside the GOOD news of God's awesome purpose for His people in the immediate days ahead.
I repeat: Do NOT miss the next two Friday announcements!
ATTENTION MINISTERS
A statement to all MINISTERS: God WILL reunite His people, and soon. Ministers for decades have been "scattering" them—and working "against" Christ (Matt. 12:30). Read what follows Matthew 12:30. Now comes a powerful word of caution to those men who at all fear God and want to remain in His ministry. Those who are known to have tried to thwart the active work of God's Spirit to reunite His people need to know they have chosen to END THEIR MINISTRY! The government of God's Church will make diligent inquiry with brethren now under your charge.
Most of you grew liberal in the 1970s—this was "strike one" in God's sight. But you were forgiven by a loving and merciful God and given another chance. However, mostly the same men grew far more liberal and heretical in the second "go-around" through the 90s, and all the way to the present—this was a very great "strike two" in God's sight. But His plan is to forgive you AGAIN, upon repentance. If you fight His Purpose NOW—read "God's People Back Together—SOON!", and other recent announcements—the result will be "strike THREE," and you will be OUT of the ministry by your own choosing. God's duly appointed government will REMOVE you from office. You are STRONGLY counseled to at least remain NEUTRAL in the face of your headquarters asking or even demanding you to resist what "RCG is teaching"—when God's Spirit in you should be making clear that what we are announcing is GOD'S teaching. Tell your flock you are "waiting to see," and if circumstances so require, tell your headquarters that you are going to follow God not them when push comes to shove. Tell them you are "sitting this one out." Do not trust that your current leaders will be able to save your ministry. They will NOT! Only you can do this.
Now aware of God's awesome purpose, you should in fact desire to "get out front" of what He is doing in order to help the maximum number of people. Other ministers and deacons already have. In any event, if you are not strong enough to do this, do not permit yourself to be coerced or even threatened into a position where you are soon sorry—DESPERATELY sorry!—for your actions, much like Esau found himself when he "was rejected: for he found no place of repentance, though he sought it carefully with tears" (Heb. 12:16-17). Esau could not turn back the hands of time on what he had done. Some mistakes "go too far." You are warned not to repeat Esau's mistake! Time in this age is almost gone. You stand at the crossroads of history, prophecy and DESTINY. Humble yourself in the eyes of God and He will exalt you in the future beyond what you can now imagine. You could soon be serving more of God's people—meaning larger congregations.
DO NOT BLOW A PRECIOUS CALLING!
---