Learn the
why

behind the headlines.

Subscribe to the Real Truth for FREE news and analysis.

Subscribe Now
WASHINGTON (AP) – As cases of coronavirus rise and millions of Americans shelter in place, the economic impact is now snapping into focus with millions out of work, businesses shuttered and the markets in free fall.
"We can't have the cure be worse than the problem," President Donald Trump told reporters at a briefing Monday, echoing a midnight Sunday tweet. "We have to open our country because that causes problems that, in my opinion, could be far bigger problems."
Health experts have been emphatic that unless Americans continue to dramatically limit social interaction—staying home from work and isolating themselves—the number of infections will overwhelm the healthcare system, as it has in parts of Italy, leading to many more deaths. While the worst outbreaks are concentrated in certain parts of the country, such as New York, experts have warned that the highly infectious disease is certain to spread.
Washington must try to strike a precarious balance: stop the spread of coronavirus and protect the economy.
"Life is fragile, and economies are fragile," Mr. Trump said, appearing confident he could protect both.
In recent days, tensions have been rising between those who argue the country needs to get back up and running to prevent a deep economic depression and medical experts who warn that, unless more extreme action is taken, the human cost will be catastrophic.
"I'm not looking at months, I can tell you right now," stated Mr. Trump, when asked about easing federal recommendations urging Americans to limit social contact and stay home. He said states with large case loads could continue to enforce stricter measures, while other parts of the country return to work.
Some experts feel the economic impact could be even greater if shelter-in-place orders are stopped too early.
If the U.S. stops social distancing too soon, "you will have more deaths and more dives in the stock market," warned Lawrence Gostin of Georgetown University, a lawyer with extensive public health expertise.
Republican Senator Lindsey Graham of South Carolina, a close ally of Mr. Trump, aligns with this thinking.
"There is no functioning economy unless we control the virus," the senator warned on Twitter. "Try running an economy with major hospitals overflowing, doctors and nurses forced to stop treating some because they can't help all, and every moment of gut-wrenching medical chaos being played out in our living rooms, on TV, on social media, and shown all around the world."
But Stephen Moore, a former economic adviser to the president, said it is time now "to start thinking about what kind of dramatic costs to society are we absorbing from the shutdown," including tens of millions unemployed and potential spikes in drug overdoses and suicides.
Mr. Moore said he has been urging his former colleagues to selectively open the economy in ways that minimize the public health risk with more testing and, for instance, taking people's temperature in public places, as they are now doing in other countries.
"There's no good solutions here. There's just bad solutions," Mr. Moore conceded.
Suggested Reading: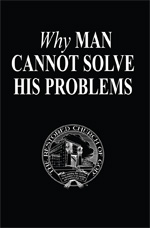 Why Man Cannot Solve His Problems
Other Related Items:
More on Related Topics: